ThynkWare Innovation Performs a Live Demo of ThynkBot at Crowdfunding Meetup in Silicon Valley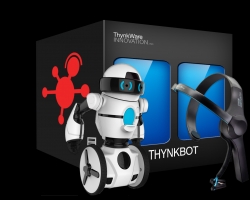 Mountain View, CA, August 22, 2015 --(
PR.com
)-- ThynkWare Innovation, a brain-computer-interface company in Mountain View, demonstrated a new thought-controlled robot before a room full of onlookers at the Silicon Valley Crowdfunding Network meetup held in Milpitas, California on Thursday of last week. The meetup held a special "inventor's" segment where select companies were allowed to present their Kickstarter or Indiegogo crowdfunding campaigns.
Duane Cash, the Founder/CEO/Innovator of ThynkWare Innovation performed a live preview of ThynkBot before the crowd and the product received a warm applause and reception as Mr. Cash controlled the robot on a table to move in a variety of directions by the power of his thoughts.
Many in the room proclaimed that ThynkBot and the ThynkWare Innovation technology held huge potential for human-to-machine interactivity and that the technology could be the "next big thing" in mind-controlled devices. ThynkWare Innovation also announced that they are seeking $100 million in funding to hire the best engineers in the Bay Area to work on the other projects that ThynkWare has currently started.
ThynkWare Innovation provides the interface layer between your brain and your devices. With ThynkWare Innovation technology, anyone can use their thoughts to control their smartphones, tablets, home, office, TV, robots, and even clothing. ThynkWare Innovation creates a new way of computing, enabling us to "thynk," to interact with devices, social networks, and other people. Some have suggested that the ThynkWare Innovation interface is the next step in computing following the invention of the mouse and personal computer.
ThynkBot is the corporation's first mind-enabled robot offering to the Kickstarter platform. ThynkBot enables people to control a Bluetooth robot with their thoughts to move forward, backward and turning in new directions. The ThynkBot software reads the user's EEG brainwave patterns and translates the signals into commands that the robot can understand.
More info:
https://www.kickstarter.com/projects/thynkware/thynkbot-a-thought-controlled-robot-by-thynkware?ref=nav_search
Contact
ThynkWare Innovation, Inc.
Duane Cash
505-702-9901
www.thynkware.com

Contact