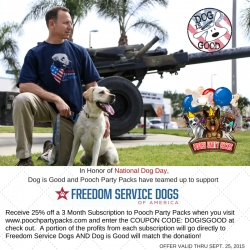 Los Alamitos, CA, August 26, 2015 --(
PR.com
)-- Dog is Good, an award winning lifestyle brand for dog lovers - inspired by Dog, announced today that they will partner with another veteran owned business, Pooch Party Packs, to benefit their annual beneficiary, Freedom Service Dogs of America.
Freedom Service Dogs mission is to rescue dogs from shelters and train them for service to assist Veteran and Active Duty Military with a variety of disabilities. Both companies, founded by military veterans, have joined forces to benefit a cause that benefits and organization near to their hearts. "This project allows us to be personally and directly involved in advocating and raising money for a cause that we believe in while partnering with another veteran owned business."
Launching on August 26th, in honor of National Dog Day, Pooch Party Packs will offer a discounted (25% off) 3-month subscriptions to their "party in a box" for dogs. For every subscription sold, Pooch Party Pack will make a donation to Freedom Service Dogs. Dog is Good will match all donations generated through this promotion.
The promotion will offer dog parents the opportunity to experience hand selected, quality toys and treats for your beloved pooch sourced from small businesses throughout the United States. "We founded this company because of our love for dogs and our desire to give back to this great nation by helping small pet businesses grow and reach customers all over the United States," said Pooch Party Pack co-founder, Steve Kalfman.
To learn about other ways that you can benefit Freedom Service Dogs of America, please visit the Dog is Good for Patriots site at www.dogisgood.com/patriots.
About Dog is Good
Located in Los Alamitos, CA, Dog is Good sells wholesale and retail, and licenses the brand to numerous manufacturers in the pet, gift and home decor industries. Their products are renowned for their clever and poignant sentiments, which appeal strongly to dog lovers worldwide. Primarily still known for their award-winning line, the brand is quickly becoming widely recognized in the pet, gift and home decor markets. Dog is Good has developed a reputation for generously giving back to animal welfare organizations throughout the United States.
For further information about Dog is Good, visit http://www.dogisgood.com or connect with us via Facebook, Twitter, or Pinterest. Retailers can contact Dog is Good by calling 562-735-0219, by e-mailing sales@dogisgood.com, or by visiting www.dogisgood.com/selldig
About Pooch Party Packs
Founded by Steve and Deborah Kalfman, both US Army veterans, Pooch Party Packs, brought their values to their business and are dedicated to supporting American businesses by selecting products from one small United States business each month to place in each box. Each product is carefully selected, and every month there is a different theme for the box. Pooch Party Packs offers special discounts to military personnel and those who have adopted pets! For further information, www.poochpartypacks.com on contact us by emailing support@poochpartypacks.com
About Freedom Service Dogs of America
Freedom Service Dogs serves retired veterans and active injured military, suffering from disabilities including PTSD, Traumatic Brain Injuries, children with autism and people with spinal cord injuries, Multiple Sclerosis, Muscular Dystrophy and Down Syndrome. Since being founded in 1987, Freedom Service Dogs has paired more than 300 client-dog teams. The cost to train one dog is $25,000 and it takes 7-12 months to train each dog. Freedom Service Dogs registered 501 (3) non-profit organization.