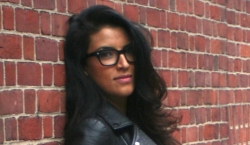 New York, NY, September 09, 2015 --(
PR.com
)-- Soraya Doolbaz, New York artist and creator of Dicture Gallery
http://www.dicturegallery.com
will be showcasing her photo exhibit, Dick-Tators of History and Friends, at 317 Gallery from September 17, 2015 to October 1, 2015.
In the spirit of humor and glorification of the "dick pic" phenomenon, the artist has taken artistic photos of penises with clothing on them. The results are hilarious! You can find examples of her previous work here, www.dicturegallery.com/the-work.
The opening night will be an exclusive cocktail party filled with laughter for the avant garde art enthusiast of NY on Thursday, September 17th, from 6-10pm. The goal of the evening is to bring a light hearted approach to Testicular Cancer. 100% of the proceeds will benefit Testicular Cancer Foundation, a non-profit organization dedicated to educating individuals on this deadly disease. "I chose the Testicular Cancer Foundation, testicularcancer.org as the beneficiary of this event because I've met quite a few people who have either lost a loved one or survived this disease. Testicular cancer is a young man's cancer affecting men age 15-35. It's completely curable if detected early. I saw the opportunity to use dicks to save balls and I took it," said Doolbaz.
Sponsors for the event include Blue Point Brewing Company, Premier Wine and Spirits, Balls Vodka, Brooklyn Cookie Company, STE catering and Obee Events who helped put the whole thing together.
For more information on Soraya Doolbaz and Dicture Gallery visit www.dicturegallery.com