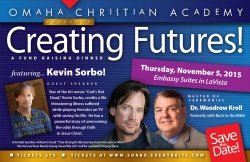 Omaha, NE, September 10, 2015 --(
PR.com
)-- Actor Kevin Sorbo, star of the recent hit movie "God's Not Dead" and author of "True Strength: My Journey from Hercules to Mere Mortal and How Nearly Dying Saved My Life," will be the keynote speaker at Omaha Christian Academy's 6th Annual Creating Futures Scholarship Dinner. Past speakers include: Dr. Ben Carson, Mike Huckabee, Bobby Bowden, Alex Kendrick and Sean and Leigh Anne Touhy.
In September 1997, Sorbo was sitting pretty. He was playing the title role in top-ranked TV show "Hercules," had just filmed his first action movie, "Kull the Conqueror," and had recently become engaged to actress Sam Jenkins. And then, quite literally, his world collapsed. Sorbo suffered an aneurysm followed by three strokes. He almost lost his arm, and the battle was far from over. Sorbo's balance and vision were severely impaired and there was a constant hum in his head – it took many years for his health to improve. Kevin will share his gripping story of victory over a life threatening illness though faith and perseverance.
Sorbo will also discuss his role in the biggest revenue-producing Christian film in movie history – "God's Not Dead." The film was released to theaters on March 21, 2014, by Pure Flix Entertainment. The film follows an evangelical Christian college student whose faith is challenged by a philosophy professor (played by Sorbo) who declares God is pre-scientific fiction. The film met with significant box office success. In its first weekend of release, the film earned $8.6 million domestically from only 780 theaters. To date, the movie has grossed $140 million worldwide through theatrical, DVD and merchandise sales against its $2 million budget.
Sorbo also took a personal interest in the film. He and his wife, Sam, are concerned about the quality of education in the United States and the indoctrination that is occurring in government schools. "I don't care what president is in office; our educational system is failing. Something has to be done about it. I don't know why there's not a bigger uproar from parents. We're so filled with apathy in this country right now. Just let the government take care of it. No! You know what, no!"
"We do better as individuals," says Sorbo. "That's what this country was founded on. We don't need bigger, stronger government spending our money. We need people coming up with ideas and ways to make our lives better. People create jobs, not government. It just drives me insane, especially as a parent. Sam and I are homeschooling our kids and we are doing a better job at home than any government school could ever do. But, there's more to an education than reading, writing and arithmetic. God gave us the responsibility of educating our three children in His Word. We are teaching our kids according to our Christian values. We only have a few short years to prepare our kids for life. The number of kids that are leaving the Christian faith by the time they graduate from college is staggering. We want our kids to be prepared."
Honorary dinner chairs for the event are Dave Nabity, Founder of Nabity Business Advisors and his wife Kim. Both are committed public servants who actively support Christian ministries. Dr. Woodrow Kroll, formerly with Back to the Bible, will serve as Master of Ceremonies. Dr. James Eckman will be honored for his faithful service to the Omaha community.
The banquet be will held from 6:30 PM - 8:30 PM at Embassy Suites in LaVista, NE and will be preceded by a private reception from 5:30 PM - 6:30 PM for special guests. Autographed copies of Kevin's book and movies will be available for purchase following the event.
The purpose of this event is to provide need-based scholarships to children in our community. In the past five years, more than $700,000 have been raised and awarded to Omaha families as a result of this event. Tickets and tables are available at
www.sorbo.eventbrite.com
or by calling 402-614-5716.
Event Sponsors:
Anderson Print Group
Salem Communications
Bott Radio Network
Fineline Graphics
Robert and Carole Julian
Country Bible Church
Myers Construction
The Wells Resource LLC
Ed Schroeder CPA
Dave Janke Plumbing
Kent and Kelley Wirges
Sid Dillon Chevrolet
David and Ellen Hughes
About Omaha Christian Academy:
Since 1972, Omaha Christian Academy (OCA) has been providing a Christian education to Pre-school through 12th grade children in the greater Omaha area. OCA exists to partner with Christian parents and the church to provide a Christ-Centered education of academic excellence, spiritual depth, and moral integrity which will prepare students for godly participation in our society and promote loyalty to God and country. OCA is fully accredited by the Nebraska Department of Education (NDE), the Association of Christian Schools International (ACSI) and the North Central Association (NCA).
www.OmahaChristianAcademy.org