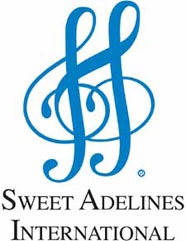 Tulsa, OK, September 14, 2015 --(
PR.com
)-- C'est La Vie Quartet took home the title of Sweet Adelines International's 2015 Rising Star Quartet Champion on Aug. 8, 2015, in Phoenix, Ariz. Sounderella Quartet placed second, Sing-A-Ma-Jigs Quartet placed third, Zenith Quartet placed fourth, and Resonance Quartet placed fifth.
Out of 14 competing quartets, C'est La Vie of Chandler, Ariz., captured the title with performances of "The Moment I Saw Your Eyes" and "If I Had My Way." The quartet says, "We can't wait to be the ambassadors of youth in harmony for Sweet Adelines for the next year! This is only the beginning for us, and we can't wait to start this journey together!"
Additionally, the members of C'est La Vie are part of the Scottsdale Chorus and will compete with the Chorus at Sweet Adelines' International Convention and Competition this October.
Established in 1999, the Rising Star Quartet Competition is an educational tool and performance opportunity for advancing the musical art form of barbershop a cappella harmony among young women age 25 and under, and its sole purpose is to recognize superior participation by young women in the barbershop a cappella art form. This year's contest was held in conjunction with Sweet Adelines International's Region 21 Camp Blue Agave Summer Seminar.
Sweet Adelines International is one of the world's largest singing organizations for women, with membership of almost 25,000 and choruses and quartets across the globe. Its members have been singing four-part harmony a cappella since 1945. Sweet Adelines International is committed to advancing the musical art form of barbershop harmony through education, competition and performance.