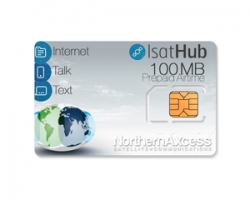 Chula Vista, CA, September 15, 2015 --(
PR.com
)--
NorthernAxcess
have been innovators in the satellite communications industry since their beginning, where they have been leading the way in the field of satellite communications marketing, and design presence along with influencing other companies to also make similar changes to their look by mimicking the appealing, and educational way NorthernAxcess has designed their own style of product images, and custom branded satellite airtime card images.
Over the last 3 months, NorthernAxcess has now led the way in bringing
Prepaid iSatHub Airtime
, which has given those a more affordable no contract way of getting their satellite internet airtime.
The release of the world's first satellite internet wifi hotspot, marketed as Inmarsat's iSatHub service, and the device manufactured by AddValue as the
Wideye iSavi
was not only a huge step forward for a different class of easy to use smart generation devices, but it also brought a more affordable, and portable way of staying in touch all around the world for people of every traveling sector that needed to have a reliable internet, and voice connection.
However even though the airtime rates for the iSatHub iSavi device were more affordable, the only airtime available came with certain contracts, and agreements. Research done by NorthernAxcess noticed that their clients were asking for prepaid options, so NorthernAxcess brought their clients the first iSaHub Prepaid Airtime options, which has not only brought a great response from their clients, but has helped market, and sell the iSatHub to a broader range of clients.
Newer technology is moving towards the use of satellite communication in larger ways, due to the gaps in cellular, which will eventually make the satellite side of the communications industry more affordable. However, until then NorthernAxcess continues to appeal to their clients through their innovative efforts of bringing you satellite communication equipment, airtime, and repair.