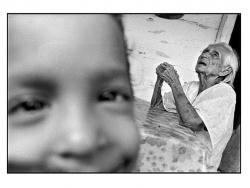 Palo Alto, CA, September 16, 2015 --(
PR.com
)-- The Midpen Media Center in Palo Alto, CA will host a special event and screening of a new short film about Cuban photographer Raúl Cañibano on Wednesday, September 23 from 7 to 9. Admission is free. Register for the event and learn more at www.cubacubanocanibano.com.
"Cuba, Cubano, Cañibano" explores the masterful photographs of Cuban photographer Raúl Cañibano for an American audience. In this 27-minute film, Cañibano talks about his life and work, and Foothill College Photography Professor Ron Herman and other photographers discuss what makes these photographs extraordinary.
Although Cañibano's work has won numerous awards in Cuba and accolades around the rest of the world, the United States' embargo on all things Cuban has kept his work largely unnoticed here. That is changing. Herman has taken students and other photographers on cultural exchange trips to Cuba since 2010, where he met Cañibano and admired his work. In January 2015, just after President Obama's announcement of our thaw with Cuba, Herman arranged an exhibit of Cañibano's work at Foothill College in Los Altos, California.
In the film Cañibano recalls his journey into photography. As a young man, he worked as a welder, but a chance meeting with a professional photographer sparked his interest. Making a career in photography didn't occur to him, however, until he saw Alfredo Sarabia's surrealistic work in 1989, when Cañibano was 28. Cañibano wanted to do something similar, with his fellow Cubans as the subjects. "I wanted," he says, "to work in the streets." Within a few days of the Sarabia exhibition, he traded in his blowtorch for a camera and started his journey. Canibano's thick portfolio traces the story of a quarter century of Cuban life, a culture deeply isolated due to the trade embargo imposed on it by the United States.
The film was created as a project of the Zoom-In Collaborative at the Midpen Media Center in Palo Alto, California. Mary Skinner of 2B Productions produced and directed the film. Midpen Media Center is a nonprofit organization that supports community storytelling by providing digital media resources and offering field and studio video training and production classes. Its mission to inform, inspire, and empower people to speak and act on behalf of their communities; and to use television and the Internet to create and distribute programs that promote and celebrate individual expression, local achievements, education, cultural exchange, arts appreciation and civic engagement.