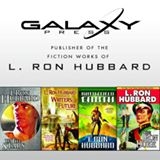 Hollywood, CA, September 17, 2015 --(
PR.com
)-- Galaxy Press is a publishing company promoting the fiction works of L. Ron Hubbard, and the anthologies of the L. Ron Hubbard Writers of the Future contest. The Galaxy Press consumer website is built using wordpress and created by their internal team.
GalaxyPress.com enables the consumer to buy directly through the site and read information about each book. Galaxy Press has found it extremely complex and costly to build a search engine integrated into their metadata and stored in Firebrand. This is a key part to any publisher site and one which should be easy to achieve with or without coding knowledge.
Supadu recently built "Supafolio," a metadata management and search system customized for the publishing industry. Supadu has recently made this available as a WordPress plug-in – "Supadu for wordpress" – allowing Galaxy metadata to be pushed to our FTP server (ONIX feeds) or pulled from a web service or API (Application Programming Interface). This metadata is processed and saved to Supafolio. Once Galaxy data has been imported, business rules are added to the metadata based on their requirements.
Through the WordPress plug-in, Galaxy Press will now have the ability to display their book metadata through the responsive layouts. Product details, author details, and a full-featured search engine, can all be added directly to the WordPress pages without writing code. Search results can be ordered, filtered and weighted according to different parameters. Featured books can be shown within a carousel or grid with the ability to easily create new custom layout designs.
With the data being stored in Supafolio, Galaxy Press will control their metadata in real time allowing them to add content (e.g. MP3, video, etc.) or change information such as description, price, author detail directly to their site. Within the Supadu dashboard, Galaxy Press can create new catalogs of books, as for example best sellers of the week. This allows Galaxy Press to control their data in real time and simply add products and search information directly to their wordpress page without coding knowledge and so make for a much improved consumer experience at www.GalaxyPress.com.
About Galaxy Press
Established in 2002 to meet the growing demand for the fiction works of bestselling author, L. Ron Hubbard, Galaxy Press is the United States, Canada and Latin America publisher and distributor for Mr. Hubbard's complete fiction library.
http://www.galaxypress.com/
About Supadu
The Supafolio platform allows creative, marketing and non-technically trained employees to create and publish any websites without writing code, integrating into your systems data with custom Apps designed for the Publishing industry.
http://www.supadu.com/
For further information please contact:
Rupert Haslam - Business Development & Marketing Manager
T: +44 (020) 8780 0110
E:rupert.haslam@supadu.com
Mark Harvie Watt- CEO
T: +44 (020) 8780 0110