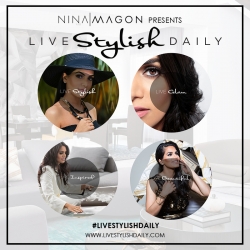 Houston, TX, September 22, 2015 --(
PR.com
)-- Nina Magon, renowned TV Personality, Creative Director and Principal of the national, multi-award winning interior design firm, Contour Interior Design, announces the launch of her new luxury lifestyle blog, Live Stylish Daily.
"As a leader in the design industry, I find it necessary to promote the importance of my design knowledge with the world. With this blog, I plan on starting a new conversation amongst my readers on how design can influence every aspect of your life. Furthermore, I hope to share my perspective on how fashion plays a vital role in an interior designer's life," explains Nina Magon, Principal of Contour Interior Design.
The new online platform will cover topics inspired by the designer and TV personality's passions and greatest influences. From interesting and thought-provoking interior design topics to simple design tips and other lifestyle subjects, Live Stylish Daily will cater to anyone influenced by luxurious style. All content will stem from four categories including:
Live Stylish - interior design and decor topics
Live Glam - fashion topics
Live Beautiful - beauty, health and fitness topics
Live Inspired - inspirational, career, travel and life topics
"I hope to ignite a new passion in my readers to live stylish daily, to live bold and glamorous, to live inspired, and to always live beautifully."
Her company's slogan, "Live Stylish," inspired the new blog's name and represents the experience of curating a fabulous lifestyle. The experience begins with opening your thoughts to a willingness to step out of your comfort zone, and encounter something unique and diverse, starting with your daily environments. The blog was created to connect clients, industry professionals, fans and readers to Magon's brand and give them a closer look at her approach and perspective on design. The comprehensive blog will also feature tutorials on "How To" achieve many of Magon's award-winning designs.
Users will also have the option to shop Magon's favorite interior design and fashion finds including: home furnishings and accessories, beauty products, apparel, and jewelry. All items will be comprised into an ideal "Style List" and featured on the blog's homepage. Video tutorials will be added to the site later in the year and will be uploaded quarterly to the blog's YouTube account.
The new blog can be found at
livestylishdaily.com
.
About Nina Magon, Founder of Contour Interior Design and Live Stylish Daily
Nina Magon is a multi-award winning interior designer and TV personality renowned for her signature refined modern aesthetic that perfectly balances bold high design with a glamorous appeal. Her lavish residential and commercial interiors have won her national acclaim as she was named one of the top designers in the country by NBC and BRAVO. In addition to her many accolades, she was deemed "The Design Industry's Next It Girl" by POPSUGAR; called "The Breakout Star" from season one of NBC's American Dream Builders by RUE Magazine; and a "Creative Force to be Reckoned With" by Oprah Winfrey's Interior Designer, Nate Berkus.
About Contour Interior Design
Contour Interior Design is a national, multi-award winning, interior design firm specializing in high-end residential, commercial and hospitality design. Established in 2007 by Principal Designer, Nina Magon, Contour Interior Design's commitment to creating exceptionally high-level modern design has positioned the company as one of the nation's top interior design firms. The Contour portfolio includes a long list of award-winning interiors that have received national and regional recognition including Best Customer Service and Best Interior Designer for three consecutive years by Houzz, Best Interior Architecture and Best Commercial Interior by Paper City, and Best Commercial Interior by ASID, among other accolades.