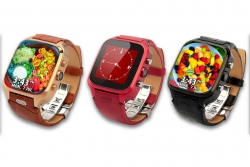 New York, NY, September 29, 2015 --(
PR.com
)-- Hypno-Learn launches The Hypnosis Weight Loss SmartWatch to help you lose weight, now available on Indiegogo.
$ 99 Indiegogo Early Bird Special for the 1st 72 hours.
Listen to music and have your subconscious mind work out the details without your needing to exercise or diet.
Hypno-Learn says: "The Hypnosis Weight Loss Smartwatch trains your brain to stop binging, stop eating junk foods, release anxiety, and start loving yourself. It has you lose weight effortlessly without dieting or exercise. (patent pending) We have 8 hypnosis features built into the watch."
The Hypnosis Weight Loss Smartwatch aims to get you to lose weight without diet or exercise. Leslie D. Riopel, world class hypnotherapist and author of 10 books, conducts hypnosis sessions which are played through the watch. As a second hypnosis method, users can listen to their favorite music while simultaneously the brain hears positive subliminal messages.
Lesley D. Riopel, world class hypnotherapist and author of 10 books, conducts your hypnosis sessions which you can listen to as often as you like. She says: "Hypnosis for weight loss works well because it helps you change years of unhealthy programming allowing you to replace it with a new way of thinking, making change effortless."
The Hypnosis Weight Loss SmartWatch has a programmed chip that enables you to download your favorite music and have positive subliminal hypnosis messages play simultaneously.
The SmartWatch is beautiful and stylish and has 8 weight loss hypnosis features built into it. They include: hypnosis sessions, subliminal programming under the music, whether you are listening to your favorite music or ours.
This gives you hundreds of hypnosis suggestions played for you daily.
Also included: watchfaces with pictures of beautiful healthy meals, a 20/30 minute reminder timer for standing up and drinking water, and a camera for selfies and monitoring system so you can see your progress.
Other SmartWatch features include:
• Built in smartphone, with wi-fi, internet and YouTube access (needs SIM Card)
• 32 GB of memory for downloading music
• Receive messages from Android, iPhone, Facebook, Twitter
• Bluetooth 4.0
• 7 day battery life (1-2 days if you listen to a lot of music)
• Sapphire watchface glass
• GPS
• Speaker and Mic
• Leather watchband
• An ongoing community forum for support
Hypnosis Works
Hypnosis is Over 20 Times as Effective for Weight Loss
Clinical study investigated the effects of hypnosis in weight loss for 60 females, at least 20% overweight. Hypnosis was more effective than a control group: an average of 17 lbs. lost by the hypnosis group vs. an average of 0.5 lbs. lost by the control group, on follow-up.
(Cochrane, Gordon; Friesen, J. (1986). Hypnotherapy in weight loss treatment. Journal of Consulting and Clinical Psychology, 54, 489-492).
Hypno-Learn says: "Hypnosis works to make you calmer, happier and more determined. Hypnosis aligns your brain, you become more focused and old habits just stop. For the cost of one hypnosis session you can do hypnosis to yourself every day."
Hypno-Learn continues: "If you have tried every diet and pill out there, now is the time to get The Hypnosis Weight Loss SmartWatch and have your brain working for you. Stop suffering and feel good about yourself again. Losing weight has never been easy until now. Give yourself the gift of effortless weight loss."
Retail Price: $199.
Regular Indiegogo price $149
$99 Early Bird Special for the 1st 72 hours
Save $100 off retail
Indiegogo:
http://igg.me/at/weightlosssmartwatch
Video:
https://vimeo.com/140100438
Media Only Contact
Art Glass, President
Hypno Learn
+1-347-522-2701 and +1-917-267-8695 (media only)
weightlosssmartwatch@gmail.com