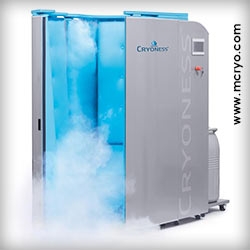 Richmond, TX, October 06, 2015 --(
PR.com
)-- Asperia Group, developer of the Cryoness Cryosauna and Majestic Cryo, Inc. today announced a broad partnership that greatly enhances and magnifies Majestic's position in the whole body cryotherapy industry as leading manufacturers as well as offering support and services to the entire whole body cryotherapy industry, while significantly expanding both company's market reach globally, specifically in the United States, Canada, Central and Latin America. The new partnership is expected to spark much needed innovation and additional R&D in the cryotherapy markets by leveraging the product engineering, business development, sales and marketing, support, maintenance and service, and other talents and resources that both companies provide, while driving scale and efficiency in the partners' respective supply chains.
The Cryoness Cryosauna will offer customers, the look they want to showcase at their locations, while providing the most efficient nitrogen delivery system and cutting-edge software application to give operators the ease of use that they have been looking for in a cryosauna device.
Just within the first quarter of 2015, Majestic Cryo rapidly expanded its distribution partnerships in the Southwest Region and West Coast of the US while continuing to support and expand their Canadian dealership, as well as gearing up to launch new distribution centers in Mexico and Brazil by Q4 of 2015.
Majestic Cryo forged their way into the industry after being invited to feature cryosauna on the Dr. Oz show. Thereafter, professional athletes, athletic teams, and celebrities helped catapult the awareness of cryotherapy in North America and give it the popularity that it is receiving today.
The partnership is a strong strategic fit, leveraging the two leading companies' respective strengths, across three main areas:
First as Worldwide Resellers and Distributors - Majestic Cryo and Cryoness have formed a whole body cryotherapy distribution program that will accelerate and extend the Cryoness product capabilities in the industry. Their first cryotherapy cryosauna model was installed by Majestic Cryo, in the US market, in Naples, Florida at Dr. Ron Repice's COOL Cryo Spa and Chiropractic location, embedded within their current national distribution campaign by years end and expanded to focus on an international level over time.
Second, by providing cutting-edge and innovative Marketing and Business Solutions - With both companies placing importance on delivering credibility and strength in brand, they have brought on expert individuals to implement powerful marketing campaigns, website and brand expertise in design and development, while developing business solutions that are traditionally effective but have never been seen in this industry.
Third, with the implementation of consistent Worldwide Support, Maintenance, and Education - As the leaders in the whole body cryotherapy industry, both companies have the manpower and combined years of knowledge and training to develop an arsenal of educational materials to create a thorough process for educating existing and new owners of cryosaunas. In addition, there will be a focus on developing materials to help consumers make well-informed decisions when choosing to use cryotherapy in their health and wellness regime.
"With the increasing interest in whole body cryotherapy, not just from consumers but also entrepreneurs who are looking to take advantage of the growing industry, we want to make sure that we provide the most elite product not just in quality and performance but also in dependability," explained Antra Getzoff, Majestic Cryo, Inc., Director of Business Development. "By teaming up with Europe's best whole body cryotherapy product, I feel we can now achieve these requirements. We took the time to research various manufacturers and we selected Cryoness because it not only met our standard of engineering quality, but their cryosauna also provides additional value and options to our current and future customer base."
Joel Cruzada, Majestic Cryo Florida, Managing Director said, "The relationship with Cryoness represents a powerful opportunity for Majestic Cryo to significantly expand our whole body cryotherapy presence in North and South America, two very vibrant and very important markets, and extend it to other parts of the world over time. Asperia Group has clearly demonstrated its ability to provide an optimal cryotherapy product and apply its considerable resources and expertise not only to enter, but to lead in these major market segments. We're excited to partner with Asperia Group and to embrace the Cryoness cryosauna as we focus our combined energies serving a broader range of customers with industry-leading whole body cryotherapy solutions not just in manufacturing but in ways to make the cryotherapy business more profitable for our savvy business owners. I am also very excited to now offer a very sexy look combined with a very user-friendly operating system and efficient nitrogen delivery process to our end users."
In this strategic joint venture, Majestic Cryo, Inc., will launch the Cryoness cryosauna, alongside it's line of current cryosauna models and penetrate the US market by executing cutting-edge marketing campaigns while continuing to advance the technology and the research of this very young, but highly effective form of therapy.
About Asperia Group
Asperia Group Sp. z o.o. was founded in Gliwice in September 2012 and headquartered in southwest Poland, has developed some of the most innovative solutions in the field of cryotherapy and radiation therapy.
They are the manufacturer and distributor of professional high tech cryogenic devices and fitness equipment. Their devices are distinguished by its professional structure, remarkable design and reliability. Their innovative solutions are designed and created to satisfy the high needs of their clients and have been on the market since 2006 and used in Europe and all over the world.
About Majestic Cryo, Inc.
Majestic Cryo, Inc. was created in 2013 to apply all the knowledge and experience acquired through bringing cryotherapy to the US in 2008 and introducing it to the market to become America's first manufacturer of cryotherapy equipment.
Today, Majestic Cryo, Inc. has the largest lineup of cryosauna cabins in the country, numerous customization options to best meet each client's business needs, and the best developed support network. Its offices in Texas, Florida, California and Ontario, Canada have been established to provide best customer service and cryotherapy industry specific marketing expertise. Majestic Cryo has installed six new locations in the Florida market just in the last quarter and is expected to double the Florida locations in the next quarter. This is the same trend being experienced across multiple states in the country.
For more information, please visit us at
http://www.mcryo.com
.