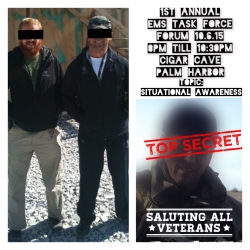 Palm Harbor, FL, October 06, 2015 --(
PR.com
)-- The mission at EMSTaskForce.com is simple. Helping proud Americans get the training necessary to understand the new world we are living in. Utilizing SOF trained staff allows for real world experiences that make the training required to stay safe today.
Tonight at 8pm in Palm Harbor, FL at the Cigar Cave, "Doc" & "Jay" are going to demonstrate the importance of "Situational Awareness." John Aslan, owner of the Cigar Cave said, "we have been working with our heroes for years and I will never forget the importance of saluting our Veterans."
"This 1st Annual EMS Task Force Forum is being held at the Cigar Cave for one reason, since 2008 John and Acid Cigars have been there for all Veterans, 'Thanks,'" says "Doc."
"Caring for our nation's Veterans has always been a top priority of mine. I am forever grateful for their efforts to protect our country and it is crucial that we, as a nation, show our gratitude for their sacrifices. That is why I am proud to employ two Veterans in my office. I am so thankful for the organizations and companies that provide opportunities to these heroes, especially our wounded warriors. Providing jobs for our Veterans can significantly help their transition to citizen life." -Congressman Gus Bilirakis.
Need more information about Entropy Management Systems, visit: www.emstaskforce.com