Dawna Lee Heising Hosts "Eye on Entertainment" at the FULCAGE Show at Boulevard 3
David McNeil Directs "Eye on Entertainment" for the "Christmas with a Conscience" Charity Fashion Event.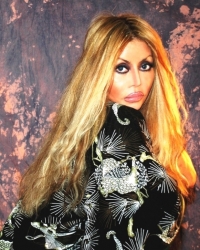 Huntington Beach, CA, December 12, 2007 --(
PR.com
)-- Dawna Lee Heising, Ms. World 2008, hosted "Eye on Entertainment" on the red carpet at the "Christmas with a Conscience" fashion charity show. Actress and clothing designer Christina Fulton and Weston Coppola-Cage produced the first Annual "Christmas with a Conscience" event to support their Single Mom Foundation, and presented the winter collection of their clothing line, FULCAGE. Starbucks sponsored the event, teaming up with the architecturally stunning Boulevard 3 in support of Fulton-Cage's Single Mom Foundation and Casa Teresa. The red carpet for the "Christmas with a Conscience" charity fashion show was lined with Hollywood luminaries such as Nicolas Cage, Patricia Arquette, Thomas Jane, Marla Maples, Tiffany Trump, Cedric the Entertainer, Rex Lee and many other high- profile celebrities. The celebrity Master of Ceremonies was Pauly Shore.
In July of 2006, Christina Fulton and her son, Weston Coppola Cage, created a grass-roots foundation and clothing line devoted to the cause of single mothers. A designer as well as an actress, Fulton infuses the FULCAGE line with a spirited originality, blending an edgy fashion aesthetic with an empowering message. FULCAGE's original designs are hand-cut, hand sewn and made in the USA. FULCAGE offers unique apparel for men, women, infants and even for family pets. The line features T-shirts and hoodies, emblazoned with dramatic designs and expressive artwork.
Christina Fulton is also the producer and director of "When Giants Collide", a documentary on the sport of wrestling. The film follows the story of one school's wrestling program, on the brink of extinction, and how the team and the community banded together to save the program. The film was inspired by Weston Coppola Cage's high school wrestling team. After a significant year of work with the Single Mom Foundation, Haven Hills, Hats Off to Cancer and Driving for Donors, Christina Fulton was recently named as the celebrity ambassador for Casa Teresa, a non-profit organization that provides support for pregnant women 18 years and older.
"Eye on Entertainment" was originally introduced by Ken Huthmaker in 2000. Following Ken's untimely death in May 2007, Dawna Lee Heising took over production of the show for Time Warner Cable Public Access. Dawna Lee Heising is Ms. World 2008. She is a member of the Screen Actor's Guild and appeared on "Fantasy Island", "The New Gidget", "The Young and the Restless" and other shows. She also was featured as Cleo the Snake Dancer on the last "Magnum P.I." Dawna has a B.S and MBA from Pepperdine University. She is the President of Heising Communications, a public relations company based in Huntington Beach.
The Director and Cinematographer for "Eye on Entertainment" is David McNeil. David is widely known for his professional photography. He is a former executive of United Artists Entertainment and was one of the original developers of the Pay-Per-View television concept. He is currently the Vice President of Marketing and Public Relations for a leading commercial insurance brokerage. He is active in the creation and implementation of various marketing events for the American Electronics Association. David is a recruited member of the MensaPROCESS Think Tank.
The Co-Producer of "Eye on Entertainment" is John Cox, a leading staff member in the film and video department at Orange Coast College. He divides his time between his students and producing television shows for Time Warner Cable. He currently has several shows in production including "The Storylady's Magic Book", "The Three Bears Show" and "Eye on Entertainment". His past films include "Super-Heroes", "Guide Dogs of the Desert" and "The Filmmaker of Oz". John has degrees in filmmaking, television and electronics.
The Single Mom Foundation and Casa Teresa
There are over ten million single moms in America, and that's why the Single Mom Foundation is dedicated to establishing funding and resources to improve the status and living conditions of single mothers in need. Sheriff Lee Baca is a member of the advisory board of the Single Mom Foundation and all proceeds from the sales of the clothing line, FULCAGE, go to the Single Mom Foundation. The new bumper sticker sums up the mission statement of the Single Mom Foundation: "Save America's Single Moms & We'll Save Our Children!" Founded in 1976 and located in Orange, California, Casa Teresa provides a home for more than 60 mothers and their babies each year. In addition, counseling services are provided to over four hundred women a year. Last year, Casa Teresa was home to 74 women, and celebrated the birth of 75 healthy babies. 15 of those babies were placed with adoptive parents. More than 2,200 pregnant women have made their home with Casa Teresa during the past 30 years.
###
Contact
Eye on Entertainment
Dawna Lee Heising
(714) 390-7122
www.eye-on-entertainment.com

Contact