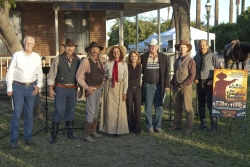 Glendale, AZ, October 29, 2015 --(
PR.com
)-- In recognition of the role the Arizona Rangers played in Arizona achieving statehood in 1912, Galaxy Press, in attending the Wild Western Festival, dedicated the performance of "The Toughest Ranger," a story written by L. Ron Hubbard, to the Arizona Rangers and as a fundraising event for the Arizona Cancer Kids charity.
Jessica Bills of the Arizona Cancer Kids was on hand for the presentation and after receiving cash donations from the event along with 50 copies of "The Toughest Ranger" commented, "At least 30 children with terminal cancer will have huge smiles due to the generosity of this community." Stating that she wished anyone donating could see the looks on the children's faces when receiving the gifts concluded, "These toys and books will make the difference to these children."
Featuring such well known names as Judy Norton (Mary Ellen in The Waltons) and Don Collier (Bonanza and Gunsmoke) along with a very talented cast including Western Festival coordinator Dr. Buck Montgomery, Greg Debenedetti, Sarah Finnigsmier, Dakota Livesay, Rick Wyckoff and Arizona Ranger Virgil Mathes, the performance of "The Toughest Ranger" was one of the highlights of the Wild Western Festival held at the Sahuaro Ranch in Glendale, Arizona, October 25th.
L. Ron Hubbard began his writing career in 1934 with the publication of "The Green God" a mystery thriller. His writing skills rapidly grew becoming a writing in all the popular genres of fiction. In addition to mystery, adventure, science fiction and fantasy, he also excelled in westerns publishing 32 tales of the old west. His western titles include "Six Gun Caballero," "Branded Outlaw," "Cattle King for a Day," "Death Waits at Sundown" and "Devil's Manhunt." (www.GalaxyPress.com)
From 2008 - 2014, Galaxy Press republished over 150 stories written by Mr. Hubbard in the 1930s and 1940s in the form of an 80-volume book and full-cast "movie of the mind" audio drama series. These stories span every genre from western and mystery to fantasy and science fiction and can be found by going to
www.GalaxyPress.com
.