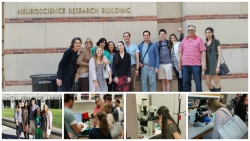 Ashbun, VA, November 12, 2015 --(
PR.com
)-- The Brad Kaminsky Foundation for Brain Tumor and Cancer Research was in Los Angeles this past weekend (11/6 – 11/8) for its 8th Annual Heroes of Hope Race for Brain Tumor Research. The Ashburn, VA based charity funds childhood and adult brain tumor and cancer research all over the United States but this event specifically funds immune and gene therapy research at UCLA, Cedars –Sinai and Children's Hospital Los Angeles.
Each year the foundation brings out Ashburn students to volunteer for the event and the days leading up to the event. Bryce Millar, Miriana Marasco and Isabella Valdez, seniors at Broad Run High School and Olivia Lacny, Broad Run Alumna and current junior at the University of Virginia, traveled to Los Angeles and assisted with the event, each fulfilling over 40 service hours for the event and work leading up to the event this past weekend. Also in attendance and volunteering was The Potomac School Junior, Sarah Hall.
The event requires months of planning and many hands on the entire weekend in Los Angeles. The students assisted all race team Captains with assembling packets, assisted in runner packet distribution and coordinating volunteers and the event itself on race day which was Sunday, 11/8/15. Over 1200 people participated in the event when has contributed close to half of a million dollars to Los Angeles researchers to date.
A highlight of the trip for the students was a visit to the Cancer Research and Immunology lab at UCLA's Department of Neurosurgery, led by the esteemed Professor and Director of the UCLA Brain Tumor Program and Editor in Chief of the Journal of Neuro-Oncology, Dr. Linda Liau. The students were able to see firsthand how the event funds donated are directly translating into brain tumor research.
Ashburn Resident, Broad Run High School Graduate and University of Virginia Junior, Olivia Lacny, who has volunteered for The Brad Kaminsky Foundation over summers and days home from school said, "I am thankful to the Brad Kaminsky Foundation for providing me with such amazing opportunities. Because of your unwavering efforts, we are that much closer to finding a cure."
Over the past years, other Ashburn students including Briar Woods High School graduate and Virginia Tech Sophomore, Kelsey Hutton, have assisted in Los Angeles with this event.
Lisa Millar, President of the Brad Kaminsky Foundation, said "We are so grateful to the kind and hardworking students right here in our own neighborhood. This area has been hit too hard by cancer and these teens are already learning the value of service to others and what a difference they can make in the lives of those impacted."
The students, who help locally with events throughout the year, were introduced to hundreds impacted by brain tumors and cancer in Los Angeles, as the event brings together thousands who participate in the 5k/10k, Kids Fun Run and new iDance4aCURE event while raising funds for brain tumors, the leading cause of solid tumor death in children and men under the age of 40. The Brad Kaminsky Foundation is named after Lisa Millar's brother, Brad Kaminsky, who passed away from brain cancer in 2001. For more information, visit www.tbkf.org or email Lisa@tbkf.org.