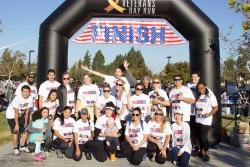 Laguna Hills, CA, November 18, 2015 --(
PR.com
)-- Staff and family members from
Allied American University
(AAU), an accredited online university that offers online associate and bachelor's degrees to students worldwide, honored the brave men and women who have served or are currently serving the country by participating in the National Veterans Day Run. The event took place in Irvine, California on November 14, 2015. Through sponsorship of its team of runners, AAU donated about $1000 to the worthy cause.
"Having the privilege and opportunity to work with so many students who are active military service members, spouses and veterans at Allied American University, we've been humbled by their experiences and sacrifices in serving our country," said Ping Tsai, event participant and AAU social media specialist. "This was just a very small way for us to show our support and give a little back."
In its first year of participation, AAU's turnout well exceeded initial expectations. The goal is to build on the success of this year's event and increase participation over the next few years.
"It was great for our team to join together and show its solidarity for a great cause. Our university is incredibly grateful to our nation's veterans for all that they have sacrificed. We look forward to participating in this event for years to come," said Galel Fajardo, director of marketing.
In addition to Irvine, CA, the 2015 National Veterans Day Run was held in Boise, ID; Colorado Springs, CO; Dallas, TX; Fort Worth, TX; Las Vegas, NV; Los Angeles, CA; Oklahoma City, OK; Portland, OR; San Antonio, TX; San Jose, CA; and Spokane WA. Past years' events have raised over $25,000 towards veterans programs. Donations from prior years' events have included the Wounded Warrior Project, Folds of Honor, Operation Gratitude, Team Red White and Blue and numerous local veterans charities in the cities where events take place.
About the National Veterans Day Run
The National Veterans Day Run (www.veteransdayrun.org) was created in 2011 to honor the men and women of our military services and their families through a running event that showcases the support and appreciation from community members. Proceeds from the event are donated to services for military families and Veterans' causes. The run has grown to include 15 cities nationwide and offers a virtual run for troops stationed overseas to join in the commemorative event providing a global platform of appreciation towards the men and women who fight for and support our freedom.
About Allied American University
Allied American University is an accredited online university that provides bachelor's and associate degrees for today's in-demand careers. The programs at AAU are 100% online, flexible and student-focused. Allied American University is accredited by the Distance Education Accrediting Commission (DEAC). The Distance Education Accrediting Commission is listed by the U.S. Department of Education. The Distance Education Accrediting Commission is a recognized member of the Council for Higher Education Accreditation.