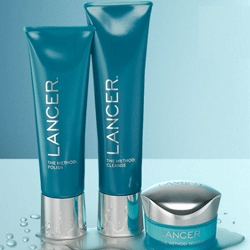 Los Angeles, CA, November 24, 2015 --(
PR.com
)-- Bringing together two of the most powerful players and visionaries in their respective fields - premier Beverly Hills dermatologist Dr. Harold Lancer and celebrated radio personality, television host and producer Ryan Seacrest - today announced their exclusive partnership and new venture into the burgeoning men's grooming category, launching a men's skincare line in late 2016.
Dr. Lancer has long been a trusted source for
effective skin care solutions
and his first-class practice is a celebrated beauty destination for global patients and celebrity clientele alike. Among them, consummate believers of his philosophy and revolutionary products; possibly none more so than Ryan himself – a longstanding patient, revered friend and now business partner.
This dynamic pairing combines Dr. Lancer's 30+ years of highly regarded expertise and innovation with Seacrest's proven influence and discerning eye for style and trends. Both recognize and understand the growing demand for quality men's products that deliver serious results. While the line will utilize the very principles of Dr. Lancer's renowned Lancer Method, the new offerings will feature entirely original formulas that expertly navigate the specific skincare needs of men today.
"Over the years at my practice, I've seen an evolution in how men care about and for their skin," says Dr. Lancer. "There is undoubtedly more of a consciousness within this demographic and a clear shift to more diligent maintenance. Men are more discerning about their regular grooming habits and products. Realizing this and their specific skincare priorities, it became more apparent we needed a targeted, effective line to address this category."
"It's no secret that guys are increasingly embracing the benefits and value of grooming, as well as openly talking about it," adds Seacrest. "I've always credited Dr. Lancer with my own efforts to maintain a youthful appearance, leveraging his skincare regimen. So, when we talked about potentially launching this business together, it makes sense on every level."
To Tracey Sameyah, CEO of Lancer Skincare, LLC, there was never a doubt the Lancer franchise would eventually include a men's range. "We don't believe any brand in this space is currently able to straddle male-centric skincare, cutting innovation and appeal to successfully address the male consumer of today. However, we strongly believe that the partnership between Dr. Lancer and Ryan is truly unlike any other. Backed by Dr. Lancer's solid foundation as a world-renowned dermatologist, and Ryan's incredible global reach, their vision for this emerging segment will be a game changer for the men's grooming industry."