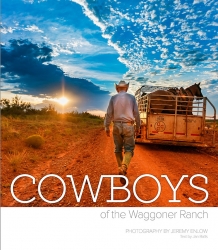 Fort Worth, TX, December 09, 2015 --(
PR.com
)-- Young Texas photographer, Jeremy Enlow captures a behind-the-scenes glimpse of these legends through his inaugural photography book, "Cowboys of the Waggoner Ranch." In its second printing – first 1,500 books sold out in 10 days! – the limited-edition hardcover is available at
www.waggonercowboys.com
.
"I've lived on and been a part of the Waggoner Ranch since I was six months old – almost 69 years. I grew up with the cowboys, ate at the wagon and the big round table at headquarters. I've known the cowboys who stayed 50 years and the ones just passing through," said Helen Biggs Willingham, joint owner of the Waggoner Ranch.
"They rise before dawn, ride tall in the saddle all day whether the day is sunny or a cold and biting wind swirls around them as they saddle their chosen mounts. They no longer battle Indians and outlaws of old, but they face the elements of nature every day; dust, drought, rattlesnakes, gopher holes, ornery cattle and the ever-present mesquite."
Willingham continued, "Some people think of the cowboy as a half-mythological folk hero, just a symbol of the American West. The Waggoner Cowboys are real people. They are essential to the daily operation and success of this outfit. They are proud to ride for the 3D brand. Our cowboys have been a vital cog in the wheel of Waggoner success for many years. The pride they have in this organization is evidenced by the hard work they put in day after day, preserving a very special way of life." (Media Note - No further comments or interviews are available from the owners of the ranch.)
Fort Worth-based Jeremy Enlow was given exclusive access to the Cow Camp operation behind the prestigious reversed triple D brand of the Waggoner Ranch. "Most everyone I know with a 'real' job couldn't last five minutes cowboying on the Waggoner," said Enlow. "They physically abuse their bodies with a finesse that's mastered with years of experience. There is no break until the job is done. Whether it rains, sleets or snows, the cowboys are always working."
Enlow self-published the hardcover book (140 pages - 12" tall x 10.5" wide - 100# glossy stock). "Cowboys of the Waggoner Ranch" retails for $58 – a portion of the proceeds will be donated to The Waggoner Ranch Cowboys Fund. A select number of signed and numbered fine art prints are also available, starting at $1,500.
Hi-Res Images with Captions Available via DropBox
https://www.dropbox.com/sh/4me759v0gey4f88/AADA02BqKii2Sgrr9YflBOqfa?dl=0
waggonercowboys.com
Facebook – Cowboys of Waggoner Ranch
Twitter - @WaggonerCowboys
jeremyenlow.com
steelshutter.com