So Much for Futuristic Droids: PicoCluster Boasts World-Changing Robot
The company's own supercomputer will address problems in our galaxy and, for the first time, will be unveiled in early January at global trade show in Las Vegas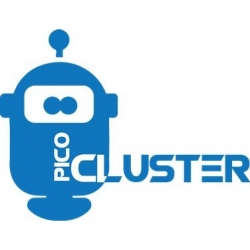 Las Vegas, NV, December 16, 2015 --(
PR.com
)-- Thought that the best robots are found in the science fiction action movies?
Enough looking at the stars.
In the City of Lights, the world's problem-solvers are about to be lit up by a truly enlightening robot, available to the world only through a dynamic data center.
PicoCluster, LLC will demo the Raspberry PI 2 cluster, or Pico, Jan. 6-9 at the Sands, booth 70974, at the International Consumer Electronics Show in Las Vegas, Nev.
Pico is a never-before-seen supercomputer that will redefine education and big data. He signals a new space in big data hardware, as now there is a completely new educational platform for big data and computer programming.
"Our world has so many problems. People can fix them. But they need tools. We have one – an important one," said Craig Brown, PicoCluster founder and CEO. "This is a new market segment – nothing exists like it commercially."
Folks are invited to visit www.picocluster.com for information about PicoCluster and its products and to pre-order Pico.
What can Pico do?
Pico, which, aside from coming in plushy form, is the largest supercomputer of his kind. He allows a user to run multiple big data applications at the same time. He can be used to learn all types of IT skills, including programming, quality assurance, and operations.
Since Pico is made up multiple physical computers coupled together via a network, a user can learn how to program and utilize clustered systems in a way that no other such device allows. As that happens, a user can even have a visual and tactile experience with the robot. Pico features an accessible network and activity lights.
"PicoCluster offers a different kind of learning tool," Brown said. "Most people understand better when they can interact with working devices. This is one of the reasons that robotics is so interesting. You can see the excitement in people's eyes when they are able to a have tiny robot respond to and interact with them."
PicoCluster LLC also looks forward to encouraging education in science, technology, engineering and math (STEM), benefitting the workforce in turn. PicoCluster LLC focuses on women and youth, as the $100 billion big data industry needs more programmers. Also, PicoCluster's software has resolved an issue of Raspberry PI clusters struggling beyond a certain configuration point.
Brown compares Pico to the early personal computers of the late 1970s. "If it wasn't for those early personal computers that kids learned from, the computer industry would have taken a lot longer to mature," he said. "We're hoping to do the same thing for big data at PicoCluster."
About PicoCluster LLC
PicoCluster LLC is a personal data center that seeks to set a standard for what it means to remove barriers to learning and operating big data software. It is doing so as a society realized a future of parallel and distributed reporting and the Internet of Things, where thousands of tiny machines communicate and process data together, and generally, work together to solve problems. It has built a training site specifically geared for its products, which includes lesson materials. It offers an open-source app store; in connecting clusters via nodes, or runtime environments, to the same network. And it has designed its products for enterprising standards. It is making its hardware, case designs and software available on GitHub and offers other types of supercomputers for pre-order on its website. Its supercomputer, "Pico," also comes in plushy form. For more information and to pre-order Pico with a single click, visitwww.picocluster.com.
Contact
PicoCluster LLC
Craig Brown
801-680-7300
www.picocluster.com

Contact