DirectBuy Employee Clowns for Kids
DirectBuy of Springfield Receiving Manager Gets Silly for a Serious Cause.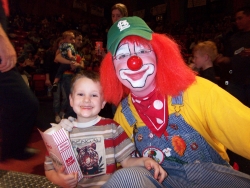 Springfield, MO, December 20, 2007 --(
PR.com
)-- One minute, Chris Keeton is the respected Receiving Manager of
DirectBuy of Springfield
, Mo., known for always helping members and fellow employees with a friendly smile. But with makeup and a quick change of clothes, he becomes "Zinger" the clown, a good-natured jokester who makes audiences giggle and raises funds for children in need.
It's all part of Keeton's after-hours volunteer work with the Shriners. The famous fraternal organization has long been dedicated to providing absolutely free medical care to children through 19 Shriners Hospitals with orthopedic care and rehabilitation and three Shriners Burn Institutes. As one of the group's clowns, Keeton makes appearances at events all over the Springfield area to raise funds for Shriners facilities.
Keeton says his upbeat personality makes him a natural clown, but the real reason he joined the ranks of the Shrine's clown unit last December was to make a positive impact on children in need. Throughout his life, he has devoted himself to giving back to others as a Red Cross volunteer, firefighter, Marine – and as a Receiving Manager, helping families discover the value of a DirectBuy membership.
"Everything I've done is to help someone," says Keeton. "It's great to have a hobby after work that not only helps people, but is also a lot of fun."
Keeton says becoming a clown doesn't require a degree from "Clown College" or formal training – clowning is all about fun, after all. After a little research and shopping, Keeton put together a costume of a red wig, St. Louis Cardinals cap, blue-and-white-striped overalls, and, of course, size 14 clown shoes that look like Roger Rabbit's famous sneakers.
"Because all the money we raise goes to the Shrine's buildings and hospitals, the clowns pay their own costs," says Keeton. "It comes out of pocket, but it's worth every penny to do it."
Franchisee Tracye Corbin of Springfield isn't surprised Keeton is spending his spare time outside the Center lending a hand to children in need. Keeton is a close friend, and she brought her five-and-a-half-year-old son, Aidan, to see him perform in the Shrine Circus.
"One of the things Chris enjoys most about being a clown is helping kids," says Tracye. "He enjoys kids, because he's a big kid himself."
Recently, Christopher Lowell training was scheduled on Keeton's day off – and in between two of his performances – so he arrived in full clown gear and makeup at DirectBuy of Springfield. "Zinger" was such a hit with staff members that some of them posed for photos alongside their Receiving Manager's alter ego after the training session.
"I extend the same joy and same attitude of enjoying life to my work as I do to being a clown," says Keeton. "I can't imagine going to bed and not feeling good about what I did that day."
About DirectBuy
For more than 35 years, DirectBuy has been showing thousands of consumers unparalleled ways to save as they shop for virtually everything they need for in and around their homes - from
furniture
,
carpet
and flooring, to kitchen and bath cabinets, appliances and much, much more.
DirectBuy enables members to purchase most every product offering from several hundred manufacturers at over 140 showrooms across North America. To request a "Free Insider's Guide to Buying Direct" and a Visitor's Pass to learn more about the superior value and benefits of a DirectBuy membership, visit
www.directbuy.com
or
www.directbuycares.com
###
Contact
DirectBuy
Sara Shragal
219-736-1100
http://www.directbuy.com/

Contact