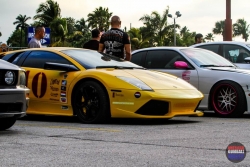 Tampa, FL, December 18, 2015 --(
PR.com
)-- The dates for the 2016 Florida Gumball Rally main event are March 5, 6 2016. This event is open for any make and model vehicle to participate. This laid back road trip weekend starts Saturday morning March 5th and travels from Tampa to Jupiter stopping at cool "checkpoints" and race tracks and ends in Miami Sunday March 6th. The purpose of the event is to promote Florida business, tourism and charity and the cost is as low as $300 per person and includes vehicle sticker pack, hotel accommodations for Saturday night at the Wyndham Grand Jupiter, track time at a road course and drag strip, photography, prizes, food stops and more.
An optional Friday night hotel & roof top gathering will take place Friday March 4th, 2016 at the Epicurean Hotel in Tampa. The organizer Randy Kohler says one team "Team Jetlag" is coming all the way from the UK and renting a car. He also adds that the Florida Gumball welcomes all makes and model vehicles but is consistently dominated by BMWs each year. Kohler added "I think the BMW people are generally pretty outgoing people and some clubs like the Tampa Bimmer Group get together frequently for weekly meet ups so this is the perfect opportunity to network with people in the car club and meet promote for their sponsors."
40 cars and 80-100 people is the maximum capacity for the event and the 4th annual Florida Gumball Rally will end at the Dezer Collection in Miami. The exact route is not available to the general public but checkpoint locations and times will be made public through social media outlets a week before the event.
Fans of classic cars, muscle cars, exotics, trucks and Jeeps are all welcome to meet the Florida Gumball Rally participants at any checkpoint or sign up and see what all the event is all about. More information about checkpoints or signing up can be found through the official Facebook page and the Official website www.AmericanGumballRally.com
The American Gumball Rally organizes annual weekend road rally events in each state to promote for businesses, tourism and charity. It is a community networking event so anyone can enter for fun or to promote and advertise a company or product.