Your Choice Program™ from DuraLife™ Blends Finish, Performance & Value to Create Beautiful, Custom Decks
First-of-Its-Kind Program Allows Users to Design Beautiful Outdoor Living Spaces by Selecting the Color They Want at the Performance & Price Points of Their Choice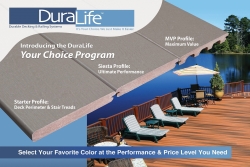 Biddeford, ME, January 14, 2016 --(
PR.com
)-- DuraLife™, the leading manufacturer of durable decking & railing systems, has introduced the new Your Choice Program™ to help homeowners create long-lasting and beautiful composite decking solutions that blend color and performance with value. Building professionals and do-it-yourselfers alike need only visit www.duralifedecking.com to design idyllic outdoor living spaces by selecting the color they want at the performance & price points of their choice. Free product samples highlighting the company's line of Hardwoods™ and Landscapes™ Collection eco-friendly decking are also available to further ensure desired results are achieved every time.
"DuraLife is the first in the industry to offer this bold program for helping homeowners design the decks of their dreams," says Jim Poulin, the national sales manager for DuraLife Decking and Railing. "This includes enabling homeowners to select any color they want at the performance and price level they can afford. Other decking manufacturers offer decking lines at varying levels of quality, performance and price, but each has its own limited color scheme. All of our profiles are supported by a wide array of color schemes and finishes. With the Your Choice Program, homeowners can easily specify the look and feel at a price that makes sense, while retailers benefit because they don't have to carry a warehouse full of products just to meet customer needs."
The DuraLife Your Choice Program begins with a choice of color to achieve the desired deck aesthetics. This includes the selection of deck boards ranging from wood tones offered in variegated, non-repeating wood grain patterns to contemporary earth tones. Next, users can select from the company's Siesta™, MVP™ or Starter™composite decking profiles to accommodate each project's performance, value and function needs. Finally, the entire project is tied together through the selection of Railways® Universal Railings designed with coextruded, capped composite material that will not splinter or lose strength over time.
Shown to outperform other wood and composite decking products, DuraLife's low-maintenance polypropylene and hardwood composite decking material is highly resistant to spills, staining, fading, mold and mildew, while retaining its vibrant finish over time. Each deck board is also designed to minimize sagging and flex between joints as well improve overall aesthetics and structural integrity.
To experience the benefits of the Your Choice Program or order DuraLife product samples, please visit www.duralifedecking.com.
About DuraLife™ Decking and Railing
DuraLife™ brand products are manufactured by Integrity Composites, LLC a leading supplier of composite decking, railing, and dock planks. The company operates a 100,000 square foot manufacturing and warehouse facility in Biddeford, Maine and its products are sold throughout the U.S. and internationally.
Contact
DuraLife Decking & Railing
Mike Descoteaux
207-571-0775

Contact