SKILLSdox and Datawind Partner to Bring High Quality Online Educational Experiences to India
DataWind Inc. (TSX: DW), a leader in the delivery of Internet access in emerging markets, and SKILLSdox Inc., a provider of quality online education resources, have partnered to offer SKILLSdox's online education marketplace, School of Skill, on select DataWind low cost, Internet-enabled tablets launching March 2016.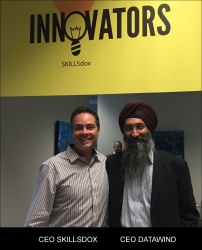 Ottawa, Canada, January 19, 2016 --(
PR.com
)-- Datawind's tablets, which are sold bundled with one year of unlimited Internet access, will feature SKILLSdox's online education marketplace, School of Skill, which provides access to high quality resources from the world's top educators.
Earlier this year, SKILLSdox received a $30 million investment from the largest media conglomerate in India, BCCL (Times Group), to support the marketing of online education through TV, radio, digital, newsprint and billboards. The campaign is expected to reach upwards of 80% of India's population.
SKILLSdox will focus on building awareness for its online education programs in partnership with top global institutions such as Udemy, Centum Learning, BSEI, Emerit and edX, which provide university-level courses across a wide range of disciplines.
As one of the world's fastest growing economies, India faces many challenges including a lack of educational infrastructure, teaching materials and qualified teachers. To address these challenges, India's Minister of Finance, Arun Jaitley, has established the National Skills Development Council (NSDC) and India's Prime Minister, Narendra Modi, has introduced multiple mandates including providing education to 500 million people by 2022 and digitalizing the country by providing Internet access.
"The large number of Indian people in need of formal education coupled with the shortage of skilled teachers and a focus on the digitalization of India presents a tremendous opportunity for online education," commented Brad Loiselle, President and CEO of SKILLSdox. "Our growing content partnerships, along with the investment from BCCL and now combined with DataWind's tablets and 1 year of free internet service, we open up access to quality education to all parts of India."
Suneet Tuli, CEO of Datawind, added: "DataWind's low-cost Internet-enabled tablets are the perfect way to deliver online educational resources to people across India. Because of our unique technology, the educational resources offered on SKILLSdox's platform has the ability to change the lives of millions of Indian people – even those in rural villages."
As the leader in low-cost Internet connectivity, Datawind's missions is to provide Internet access, which has the ability to create tremendous social and economic benefits, to billions of unconnected people. Their Internet Delivery Platform offers a low cost Internet connectivity solution by bundling an affordable device with an inexpensive one-year pre-paid internet browsing service plan.
With over 4 billion people around the globe not connected to the Internet, affordability and network infrastructure remain the two biggest challenges. DataWind is able to break these barriers by providing Internet access via the world's most affordable tablets and smartphones across existing network infrastructure.
About SKILLSdox Inc.
SKILLSdox Inc., head office located in Ottawa Canada and its' subsidiary SKILLSdox India Private Ltd. with an office in Mumbai India, is an online education Gateway / Marketplace that promotes and provides access to global educators to the Indian marketplace. Through an equity partnership with BCCL (Times Group), SKILLSdox has the largest media support for any online educator that it leverages to support its content partners. Visit SKILLSdox at: www.skillsdox.com
About DataWind
DataWind is a leader in providing affordable mobile Internet connectivity in emerging markets. The company's patented, cloud-based technology reduces up to 97% the amount of data needed for web browsing, providing a broadband experience on any network - even on legacy 2G networks that are still prevalent in developing countries. DataWind also provides economical smartphones and tablets that come bundled with one year of unlimited Internet access, making it the largest tablet provider in India only behind Samsung. DataWind's unique solution offers broad social and economic benefits for the billions of people around the world for whom an Internet connection was previously out of reach. DataWind is traded on the Toronto Stock Exchange (DW.TO). For more information visit www.datawind.com and ir.datawind.com.
Forward-Looking Information
This press release contains "forward-looking information" within the meaning of applicable Canadian securities legislation. Such forward-looking information includes information with respect to our goals, beliefs, plans, expectations, anticipations, estimates and intentions. Forward-looking information is identified by the use of terms and phrases such as "may," "would," "should," "could," "expect," "intend," "estimate," "anticipate," "plan," "foresee," "believe," and "continue," or the negative of these terms and similar terminology, including references to assumptions. Please note, however, that not all forward-looking information contains these terms and phrases. Forward-looking information is based upon a number of assumptions and is subject to a number of risks and uncertainties, many of which are beyond our control. These risks and uncertainties could cause actual results to differ materially from those that are disclosed in or implied by such forward-looking information. These risks and uncertainties include, but are not limited to, the risk factors identified in the Company's prospectus dated June 27, 2014, which is available on the SEDAR website at www.sedar.com.
Consequently, all of the forward-looking information contained herein is qualified by the foregoing cautionary statements, and there can be no guarantee that the results or developments that we anticipate will be realized or, even if substantially realized, that they will have the expected consequences or effects on our business, financial condition or results of operation. Unless otherwise noted or the context otherwise indicates, the forward-looking information contained herein is provided as of the date hereof, and we do not undertake to update or amend such forward-looking information whether as a result of new information, future events or otherwise, except as may be required by applicable law.
No securities regulatory authority has either approved or disapproved the contents
of this press release/media advisory.
Source DataWind Inc.
Company Contact:
Dan Hilton
Chief Financial Officer
DataWind Inc.
+1(613) 277-3266
dan.hilton@datawind.com
Investor Relations:
Michael Koehler
Liolios Group, Inc.
+1(949) 574-3860
DW@liolios.com
Contact
SKILLSdox
Brad Loiselle
613-695-4100
www.skillsdox.com

Contact