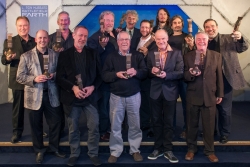 Hollywood, CA, January 28, 2016 --(
PR.com
)-- A special celebration was held at Galaxy Press Tuesday night recognizing many of the actors involved with the upcoming release of the Battlefield Earth unabridged audiobook. The 47 ½ long audiobook is the longest fiction multicast audiobook ever produced which consists of 67 actors performing 198 different characters with a soundscape employing over 150,000 sound effects and over 3 hours of original music created for the audiobook.
Written by L. Ron Hubbard and originally released in 1982, Battlefield Earth has become one of the bestselling post apocalyptic science fiction stories ever published and is premised on what if the space probe man sent into space—Voyager 1—was picked up but the response was not what we expected. In a recent poll done by SciFi Lists, Battlefield Earth remains one of the top 100 science fiction novels of all time. Galaxy Press is releasing this "high definition" audiobook this coming Father's Day along with the Battlefield Earth trade paperback edition which contains never before seen handwritten author notes.
The book, and thus the audiobook, starts with an in-depth introduction by the author, read by golden voice Stephan Rudnicki, where Hubbard explains science fiction's Golden Age as well as the difference between science fiction and fantasy. The work features voice talent from audiobooks, television, film and games including: Jim Meskimen, R.F. Daley, Charlie Davis, Phil Proctor and Michael Yurchak. Multiple Grammy Award winning Audio Engineer Brian Vibberts and score recordist Paul Werthheimer were also on hand for the event.
Audiofile Magazine in their review of the audiobook stated, "The result is a vivid movie of the mind," and then bestowed their coveted Earphones Award, an award that recognizes truly exceptional titles that excel in narrative voice and style, characterizations, suitability to audio, and enhancement of the text. A certificate of this award was presented to each of the attending talent at the event.
Battlefield Earth was written in celebration of 50 years as a professional writer. Hubbard wrote, "To show that science fiction is not science fiction because of a particular kind of plot, this novel contains practically every type of story there is—detective, spy, adventure, western, love, air war, you name it. All except fantasy; there is none of that. The term 'science' also includes economics and sociology and medicine where these are related to material things. So they're in here too."
For more information about Battlefield Earth and the upcoming release, go to
www.GalaxyPress.com
.