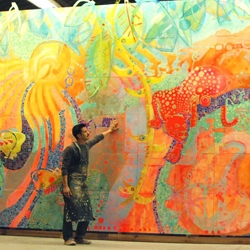 Oceanside, CA, February 03, 2016 --(
PR.com
)-- Dionisio Ceballos, noted chief artist for the legendary Miramax film Frida, as well as an Emmy award winner for his digital artwork as an animator, is Southern California's newest Mexican muralist. Dionisio's return marks a permanent commitment to the home of Hollywood, opening his new working studio in outside of L.A.
Born and raised in Mexico City, then a traveler in the U.S. midwest, and most recently living in Berkeley, CA, Dionisio brings to the SoCal region his prolific creative voice with an emphasis on murals. His studies of translucencies and his recurring ludic atmospheres set the ground for his mural work - a translation of the chaotic towards the sublime, from the unpredictable to the essential.
"Murals can be overwhelming," says Dionisio, "but I often take refuge in a quiet mental state, where the important decisions take place. In this deep silence the beast is no longer intimidating."
Dionisio seeks to contribute to Southern California community life, to participate in public art dialogues, and to move people and conversations forward by working with both cities and municipalities, as well as private clients.
"Dionisio creates worlds where I feel at home," says Daniele Fenzi Pasca, who directed a recent creation of Cirque du Soleil. "His worlds are like my dream worlds. They make me simply and deeply happy."
Dionisio's work builds upon the Mexican school of muralists, from masters Rufino Tamayo to Pedro Coronel. His murals are alive with the bright hues of his native heritage as he continues to develop new techniques, experimenting with optical resources like three-dimensional sculptural pieces cast in epoxy resin that surface from his wooden panels, adding volume and depth to the work.
Murals are one of the oldest forms of social acknowledgement, a loud and clear reflection of societies' questions, visions, and culture. Dionisio has arrived carrying the strength of his ancestors into Southern California's landscape. "I am eager to get to work to keep that tradition alive, and contribute to the public discourse with a fresh artistic language," says Dionisio.
www.dionisio.com.mx