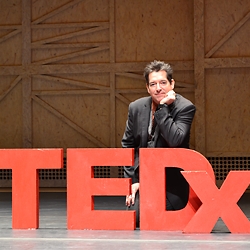 Tucson, AZ, February 05, 2016 --(
PR.com
)-- Making his 18th consecutive appearance at the Tucson gem and mineral shows, internationally renowned meteorite specialist Geoff Notkin is thrilling visitors to his showroom with an extraordinary display of rare and valuable rocks from outer space.
Notkin is a TEDx speaker, meteorite hunter, world adventurer and author, best known as the Emmy Award-winning star of TV's STEM Journals and Meteorite Men. He is president of Aerolite Meteorites, Inc., the world's largest meteorite company, which has its global headquarters in Tucson.
One of the Tucson show's most popular meteorite dealers, Notkin is a featured exhibitor at the 2016 Tucson gem and mineral shows. The Aerolite Meteorites showroom is located at the Hotel Tucson City Center, 475 North Granada, in Suite 323, and is open daily from 10 am – 6 pm through February 14. Admission and parking are free.
Visitors to the Aerolite Meteorites showroom will be captivated by the spectacular, all-new display of genuine space rocks for sale, including museum-quality pieces and historic meteorite specimens, along with official Meteorite Men collectibles. Notkin is on hand to sign books, autographs, and meet with fans and enthusiasts as time permits.
Debuting this year in the showroom is a newly discovered Arizona meteorite that has never been displayed in public before. Named the "Old Camp Wash" meteorite, it was discovered in 2015 by a landowner in Maricopa County who noticed a dark, out-of-place rock while riding his ATV. Upon examination, the rock was determined to be a 30-pound stone meteorite, billions of years old, which originated in the Asteroid Belt between Mars and Jupiter.
Classification and identification work was carried out by a leading academic research facility, and the new meteorite was given the official name Old Camp Wash after a nearby geographical feature. The main mass remains intact and Aerolite Meteorites hopes it will go to a museum collection. A thorough search of the find location produced additional meteorite fragments; one of those was cut into slices, and pieces are available for sale in the Aerolite Meteorites showroom.
Also new this year is a hands-on meteorite dig taking place right in the showroom. Visitors of all ages are invited to try their hand at finding real meteorites in a simulated meteorite crater built by one of Arizona's expert prop makers. The crater is filled with sand and contains buried meteorites. The dig is only $5 per person and participants keep any meteorites they find. Digging tools and equipment are provided.
Media wishing to visit the showroom or schedule an interview with Geoff Notkin are asked to contact Becca Gladden, Director of Public Relations, at pr@aerolite.org or (623) 210-6554.
About Geoffrey Notkin: A television host, professional meteorite hunter, science writer, and photographer, Notkin is president of Aerolite Meteorites, Inc., the world's largest commercial meteorite company. He starred for three seasons on Science Channel's award-winning TV show Meteorite Men, and hosted the Emmy-winning educational TV series STEM Journals for Cox Media. He has also made documentaries for National Geographic, Discovery, PBS, BBC, History Channel, A&E, and Travel Channel. Notkin has written more than 150 published articles on meteoritics, paleontology, adventure travel, history, and the arts, and is the author of three books. The minor planet 132904, discovered at Mount Palomar, was named "Notkin" and approved by the Minor Planet Center in recognition of Geoff's contributions to science and education.
Website: www.geoffnotkin.com
Twitter: www.Twitter.com/geoffnotkin
Facebook: www.Facebook.com/geoffnotkin
Instagram: www.instagram.com/geoffnotkin
Source: Aerolite Meteorite Public Relations