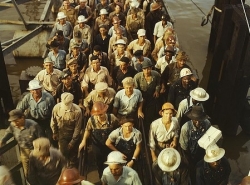 New York, NY, March 28, 2016 --(
PR.com
)-- The Belluck & Fox
Mesothelioma Victims Center
says, "We want all recently diagnosed shipyard workers and/or US Navy Veterans to call us anytime at 800-714-0303 for extremely honest advice about the needed components for the best possible financial compensation for this cancer caused by asbestos exposure. We literally have visited every US Navy shipyard in the nation, and in some instances we know them as well as some of the workers who spent time at these facilities. Because US Navy Veterans were frequently forced to stay on their ship at a shipyard, our invitation includes them too.
"If the average US citizen knew how much asbestos a shipyard worker or US Navy Veteran was actually exposed to, we think most people would be horrified. Over the years we have talked to 100's of shipyard workers or Navy Veterans who helped repair their ship in a shipyard and they all talk about being covered from head to toe with asbestos; if they blew their nose it would come out white-covered with asbestos. These sorts of extreme exposures to asbestos were occurring in the 1950's, 1960's and up until late 1970's, but we have also discovered much more recent examples.
"If you are a former shipyard worker in Massachusetts, Maine, Connecticut, Virginia, Maryland, Georgia, Florida, Alabama, Louisiana, Texas, California, Washington, Oregon, or Hawaii or you are a US Navy Veteran and you have been diagnosed with mesothelioma, or this is a family member, please call us anytime at 800-714-0303 for our unsurpassed legal resources focused on making certain our clients get the best possible compensation. We also want to emphasize we make house calls nationwide.
http://MesotheliomaVictimsCenter.com
The Mesothelioma Victims Center shares a recent news article about the rebirth of a shipyard in Minnesota. Please notice in the article the part about removing asbestos before the shipyard could reopen.
http://www.duluthnewstribune.com/news/superior/3947918-fraser-shipyards-superior-buzzes-around-major-project
High risk work groups for exposure to asbestos include Veterans of the US Navy, power plant workers, shipyard workers, oil refinery workers, steel mill workers, miners, factory workers, railroad workers, plumbers, electricians, auto mechanics, machinists, welders, pipefitters, insulators, and construction workers. Typically the exposure to asbestos occurred in the 1950's, 1960's, 1970's, or 1980's.
http://MesotheliomaVictimsCenter.com
The average age for a diagnosed victim of mesothelioma is about 72 years old. This year between 2500, and 3000 US citizens will be diagnosed with mesothelioma. Mesothelioma is a rare form of cancer that is caused by exposure to asbestos.
The Belluck & Fox Mesothelioma Victims Center says, "If you call us at 1-800-714-0303, you will be talking to some of the nation's skilled and experienced lawyers, and we make house calls. In other words we go to visit the person who has been diagnosed with mesothelioma at their home almost immediately. The more we understand where or how the person who has been diagnosed with mesothelioma was exposed to asbestos the better we can represent them."
http://www.belluckfox.com/
According to the CDC the states indicated with the highest incidence of mesothelioma include Maine, Massachusetts, Connecticut, Maryland, New Jersey, Pennsylvania, Ohio, West Virginia, Virginia, Michigan, Illinois, Minnesota, Louisiana, Washington, and Oregon.
However, based on the calls the Mesothelioma Victims Center receives a diagnosed victim of mesothelioma could live in any state.
For more information about mesothelioma please refer to the National Institutes of Health's web site related to this rare form of cancer:
http://www.nlm.nih.gov/medlineplus/mesothelioma.html