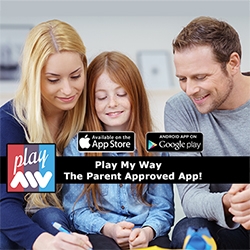 Beirut, Lebanon, February 24, 2016 --(
PR.com
)-- At a time when most homes have several smart devices, it's a challenge to keep kids away from using them at a very young age. Studies showed that there is a direct correlation between kids heavily using smart devises and their grade scores.
The more screen time, the less they are studying.
Play My Way is the first mobile application which was developed to combat this exact problem in a way which is sensible, logical, and gives everyone involved a sense of satisfaction.
Play My Way lets your kids use their phone only when they answer a challenging question every few minutes in Math, Science, or Language Arts.
At parent-specified intervals, Play My Way will interrupt any running application with an educational question, and will only return to the app once the question is answered. It runs atop any other app, which allow parents to integrate educational content in a way which guarantee academic values are being delivered, while their kids are playing on any mobile device.
You can also run the app in Quiz mode, where you can choose a specific chapter and a number of questions to run continuously for your child to be tested on.
You can download the app for free on Google Play and App store, Where the first chapter of each subject is for free.You can buy each subject for 1$ for full access on all chapters. They are working on new subjects and languages for the near future.
For more info please visit their website: www.playmyway.com