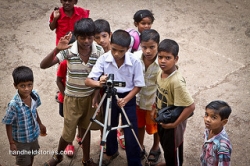 Delray Beach, FL, February 24, 2016 --(
PR.com
)-- Handheld Stories, a small local non-profit, is raising funds to bring a film workshop to the Lakota Pine Ridge Indian Reservation in South Dakota this summer. A team of educators and filmmakers will guide youth leaders through the elements of documentary film. After learning storyboarding, camera technique, editing and finally how to upload their short films to social media, the kids will come away with the empowerment that comes from being heard. Handheld is partnering with Lakota non-profit, Thunder Valley CDC, which President Obama praised as "inspiring a new beginning for Pine Ridge." Thunder Valley, an organization founded in principles of community sustainability and self-efficacy, will take charge of the video and editing equipment at the completion of the workshop so the kids can continue to share their unique perspectives with the world.
Handheld Stories has brought workshops to Nepal, the Middle East, and even to the slums that served as the backdrop for the movie, Slumdog Millionaire. "We chose this location based on the same criteria that led us to international communities," says Handheld Stories Director Allegra Hamilton. "Media coverage portrays tribal communities as a collection of statistics. Poverty, suicide, and substance abuse: those things tell us nothing about the context, or what has meaning for the people who live there. This is a good place for Handheld Stories."
The fundraiser will be held at Boheme Bistro, 1118 East Atlantic Avenue in Delray Beach. Guests who drop in on Thursday, March 17 between 6:00 PM and 9:00 PM will be treated to complimentary hors d'oeuvres from the restaurant's Mediterranean menu. They will also have the chance to bid on local dining, spa, and entertainment packages, an array of film-related goods and services, and limited edition prints from photographer Guy Brooksbank's international travel portfolio (visit
guybrooksbank.com
for sample photos). An RSVP through
Eventbrite.com
will garner a free raffle ticket for partygoers.