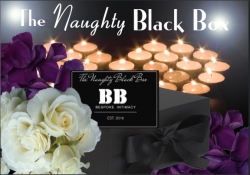 Las Vegas, NV, February 26, 2016 --(
PR.com
)-- The Naughty Black Box unveils the newest way to purchase adult relationship and intimacy lifestyle enhancing products. The Naughty Black Box offers high end, luxury products that are selected to strengthen sexuality and improve sexual health. Based on your customized profile, each speciality themed box is thoughtfully tailored to your specific needs and delivered discreetly to your front door!
What Sets The Naughty Black Box Aside from the Rest?
The Naughty Black Box is a lifestyle brand that inspires people to discover, learn and explore sensuality, sexuality and health. The Naughty Black Box has partnered with internationally renown clinical sexologist, Dr. TaMara, to provide guidance on research, the science of sexuality and clinical support. Another unique feature of The Naughty Black Box is that Dr. TaMara will also provide customized personal assessments and intimacy and relationship coaching to customers.
The Las Vegas based company is very heavily involved in philanthropy and giving back to the community. The company sponsors community events and gives a portion of the sales to sexuality related research and organizations.
A spokesperson for the company stated: "We invest a lot of time to sexuality research to ensure that we are offering quality products that are body safe. We also focus on improving the relational and sexual lives of our customers. At The Naughty Black Box, we are unapologetically committed to ensuring that our clients experience unparalleled levels of romance, intimacy and sexual pleasure. We bespoke intimacy, meaning that we specifically and uniquely design each naughty black box with you in mind!"
The Naughty Black Boxes are created with specific themes and range in price from $89.99 to $139.99. The company also offers a monthly naughty black box subscription service for $29.99 a month.
For media inquires, contact The Naughty Black Box Co. at info@thenaughtyblackbox.com. To learn more about The Naughty Black Box or to pre-order your naughty black box, visit their website at www.thenaughtyblackbox.com.