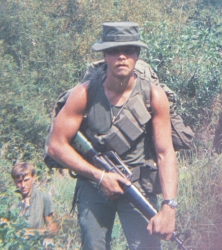 Tucson, AZ, January 01, 2008 --(
PR.com
)-- Tripwire is the gripping saga of one man's struggle against the shadows of war, revealing to all the silent thunder that can cripple the human spirit and rob the joy of living long after the shelling has stopped. Tripwire strips away the falsehoods and specters that PTSD embeds in its victims, forcing it into the light of truth where it can be seen for what it really is.
"I used to scoff at vets who claimed to be disabled with Post Traumatic Stress Disorder," states Mr. Adams. "I really believed they were just trying to milk the system." But in 1988, on August 2nd of that year to be precise, it hit him like a sledge hammer. For the next 13 years he fought a solitary battle against what he could only describe as "a dark monster of fear" that slowly ate away his confidence, his courage and his faith.
In 1997, in the midst of his struggle, Mr. Adams began to pen Tripwire from the many journals he had kept over the years as an attempt to come to grips with his "monster". If nothing else, he believed that at least his writing would record for his children the events that led to his demise, for as he looked back on those turbulent years, he truly believed as he awoke each day that it may be his last.
And now, nearly 40 years down the road, here it comes again. It's going to happen, and perhaps with even more intensity than from the Vietnam War, for the Iraq War's version of the tripwire is the dreaded "IED", improvised explosive device. Its deadly threat continually haunts the Iraqi soldier, knowing that their next step, their next breath may be their last.
Many thousands of vets returning from the Iraq War believe that their war is over. But, as was to Mr. Adams' vexation, it was only the beginning. "It is my hope that Tripwire will cut PTSD off at the knees before it can cause irreparable damage," writes Mr. Adams. "Through my decade-long ordeal I have learned that PTSD's coup de grace is knowledge and truth. And when you become entangled in its web, it is only these two weapons that can disarm the maze of tripwires PTSD throws in your path."
A testament to the human spirit's ability to overcome all obstacles, prepare to be catapulted into an adventure with as many twists and turns as the rivers that raged through the mountainous jungles of South Vietnam. Graphic, suspenseful and fast-moving, follow the trail of fear and courage that will challenge you to the very core. Look out ahead for...tripwires.
Available in hardbound, paperback or e-book, Tripwire can be found at many popular retailers, or at Robert Adams' storefront (
http://stores.lulu.com/tripwire-adamsrm
), available through Lulu.com.
Lulu.com is the premier marketplace for digital content on the Internet, with over 300,000 recently published titles, and more than 4,000 new titles added each week, created by people in 80 different countries. Lulu is changing the world of publishing by enabling the creators of books, video, periodicals, multimedia and other content to publish their work themselves with complete editorial and copyright control. With Lulu offices in the US, Canada the UK and Europe, Lulu customers can reach the globe.
Robert Adams is currently residing with his wife, Donna, in the pristine deserts surrounding Tucson, Arizona.
###