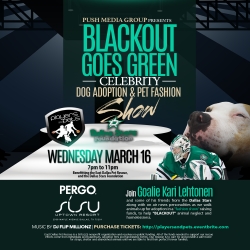 Dallas, TX, March 08, 2016 --(
PR.com
)-- Looking for a way to make a difference in the life of a rescued animal? Join a cause that we all love, helping animals find "furever" homes and blacking out animal neglect and homelessness. This is a special opportunity to obtain individual tickets or VIP packages/group tables to a Party for Purpose. Come mingle with a crowd of first class athletes and members of the sports community along with national radio and on air television talent at SISU Uptown Resort in Dallas, TX, for "Players and Pets" Blackout Goes Green with appearances by Dallas Stars Goalie Kari Lehtonen and his Stars friends along with local and national media personalities hosted by Billy the Kidd of 106.1 FM in Dallas.
What:
Push Media Group in conjunction with title sponsor Pergo Flooring, East Dallas Pet Rescue and the Dallas Stars Foundation will host all-star caliber athletes, entertainers and influencers for a night of animal fashion, animal adoption and music event dubbed "Players and Pets BLACKOUT Goes Green Celebrity Party" to benefit East Dallas Pet Rescue and the Dallas Stars Foundation. Various athletes from the Dallas Stars and FC Dallas will join Goalie Karl Lethonen, along with television and radio personalities will walk the Pergo runway with some of the most adorable animals up for adoption in the DFW area. We will continue our fashion twist on the runway with the animals wearing their own "boutique" style clothing.
Additionally, they continue their BLACKOUT Campaign, this time going green with the Stars, which was created after their own rescue, two year old, blue eyed, Pitbull Lady Lavache. Lady, was facing a rapid end of life before being rescued. At 43 pounds, tied to a 2 foot chained leash in the back of a broken couch in the backyard of a South Carolina home with no food or water for an uncertain time. Now 65 pounds, she serves as the motivation behind the BLACKOUT campaign, to put an end to animal neglect and homelessness.
Where:
SISU Uptown Resort
2508 Maple Avenue.
Dallas, TX 75201
Who:
Kari Lehtonen, Goalie Dallas Stars along with his Stars Friends. FC Dallas Players Tesho Akindele, Zach Loyd, Chris Seitz and Walker Zimmerman, Sybil Summers, Radio Personality, 103.7 FM Dallas, Jasmine Sadry, 96.3 KSCS Dallas, Connected K, Katelyn Maida, 96.3 KSCS Dallas, Linda Brenner, Co- Host of Drew Pearson Cowboys Show and LFL Football Player, Lisette Alavarez, On-Air Talent Time Warner Cable Dallas, Ric Renner, On Air Personality Fox Sports Southwest, Monica Hernandez, Reporter, Anchor, WFAA ABC 8 Dallas, Timm Matthews, Sports Reporter Anchor Dallas, TX, Billy the Kidd, 106.1 FM Dallas
When:
Wednesday March 16, 2016
7pm-11pm
Animal Fashion Show and Adoption Event 9:30pm
Tickets for General Admission Start at $20 with VIP $30 and Seated Runway VIP $50
Media Availability will immediately follow the fashion show
About Push Media Group
Founded in 2005, the Push Media Group was created to expand all of our media entities that include Pointed Magazine, Sweetest Sundaes, Celebrity Sports Camps, Players and Pets, Aerial Photo Pros and Railroad Dark. Many of which have one common goal, generating revenue for various charities while hosting the best in celebrity charity parties nationwide. Attending one of our events or using our services offers an experience to remember.
Media Contacts
Sol Tucker, Push Media Group
Executive Director
sol.tucker@pushmediagroup.com
301.442.5627
D'Ann Faught, East Dallas Pet Rescue
Events Director
edallaspetrescue@gmail.com
512.762.3235
Jessica Dunn, Dallas Stars Foundation
Executive Director
214.387.5528
jdunn@dallasstars.com