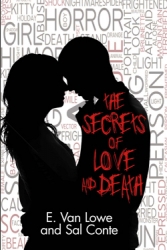 Los Angeles, CA, March 09, 2016 --(
PR.com
)-- Today, White Whisker Books is pleased to announce that "The Secrets of Love and Death" by E. Van Lowe and Sal Conte has been recognized as a finalist in the 18th annual Foreword Reviews' INDIEFAB Book of the Year Awards.
"The Secrets of Love and Death" is a young adult romance novel with a few dark twists. Theo "Turtle" Dawson is overweight, under-confident and unloved, until the arrival of Turtle's new classmate, Rita Calderon.
Young love between the teenage couple begins to bloom until Turtle's best friend, his big brother, returns from the grave. At least that's what A.D. wants Turtle to believe. Is A.D. really back among the living, or is Turtle going loony-bin crazy? And if Turtle's loving brother has returned, why is he asking Turtle to do such murderous things?
The chilling and romantic novel "The Secrets of Love and Death" comes from best-selling authors E. Van Lowe and Sal Conte.
E. Van Lowe is a novelist, television writer, screenwriter, playwright, and producer who has worked on shows such as "The Cosby Show," "Even Stevens," and "Homeboys in Outer Space." He has been nominated for an Emmy and an Academy Award. "The Falling Angels Saga" has become his bestselling series. Sal Conte is also Mr. Van Lowe, but on coffee. The idea of using both Van Lowe's name and pseudonym for this book is to bring his two audiences together.
Each year, Foreword Reviews shines a light on a select group of indie publishers, university presses, and self-published authors whose work stands out from the crowd. In the next three months, a panel of more than 100 volunteer librarians and booksellers will determine the winners in 63 categories based on their experience with readers and patrons.
"The 2015 INDIEFAB finalist selection process is as inspiring as it is rigorous," said Victoria Sutherland, publisher of Foreword Reviews. "The strength of this list of finalists is further proof that small, independent publishers are taking their rightful place as the new driving force of the entire publishing industry."
Foreword Reviews will celebrate the winners during a program at the American Library Association Annual Conference in Orlando, Florida in June. We will also name the Editor's Choice Prize 2015 for Fiction, Nonfiction and Foreword Reviews' 2015 INDIEFAB Publisher of the Year Award during the presentation.
White Whisker Books is a small press with five authors based in Los Angeles. To see more of what it offers, go to www.WhiteWhiskerBooks.com. Its books are distributed by Ingram. For more information, call White Whisker Books at 323-344-7132. For a review copy of this book, go to the website and use the contact form.