Senator Dick Durbin of Illinois Gives an Exclusive Interview on AJC Radio's Spotlight on Capitol Hill
Spotlight on Capitol Hill Gives Listeners an In-Depth Look at Initiatives and the Legislative Agendas of Our Elected Officials in Washington, D.C.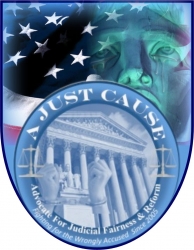 Denver, CO, March 10, 2016 --(
PR.com
)-- Advocacy group, A Just Cause, announces this Thursday's, March 10, 2016 segment of AJC Radio's, "Spotlight on Capitol Hill" will be shining the spotlight on the senior United States Senator, Richard Joseph "Dick" Durbin of Illinois (www.AJCRadio.com, 8-10 PM ET).
"We are excited to see the awesome results of our many visits to Washington, D.C. The informative interviews with our elected officials for the Spotlight on Capitol Hill segments continue to attract more and more listeners," says Lamont Banks, A Just Cause's Executive Director. "Every week, listeners across America are tuning in to hear the extraordinary accomplishments of our Congressmen and Congresswomen in Washington. This week is no different, as we will discuss serious concerns, and the necessity of reforming our criminal justice system with Senator Dick Durbin in our exclusive interview on AJC Radio," adds Banks.
Senator Durbin is passionate about the issues concerning our criminal justice system. Civil and human rights, criminal justice reform, and reducing gun violence are priorities for him. He personally authored the Fair Sentencing Act of 2010 to help correct the imbalance concerning drug-sentencing laws. Senator Durbin affirms our criminal justice laws should not be firm only, but fair for all Americans.
"We know the criminal justice system is ridden with injustice that penalizes minority and poor Americans, mandatory minimum sentencing that is completely unfair, and a death penalty that is immoral," says Lisa Stewart of A Just Cause. "Senator Durbin is a voice for the people to address those issues that are fundamentally wrong, and need to be changed," concludes Stewart.
According to his official website, "Durbin also serves as the Assistant Democratic Leader, the second highest ranking position among the Senate Democrats. Also known as the Minority Whip, Senator Durbin has been elected to this leadership post by his Democratic colleagues every two years since 2005." … "Elected to the U.S. Senate on November 5, 1996, and re-elected in 2002, 2008, and 2014, Durbin fills the seat left vacant by the retirement of his long-time friend and mentor, U.S. Senator Paul Simon (http://www.durbin.senate.gov/about-dick-durbin)
Other priorities for Senator Durbin include education, healthcare, and a balanced economy. He works to expand educational opportunities and make quality education affordable to all. Concerning healthcare, Senator Durbin believes the health care is not a privilege, but a right for all Americans: The health of the American people reflects the health of the nation. Also, Senator Durbin seeks to restore economic security to the middle class and ensure the wealthy pay their fair share of taxes. He understands that minimum wage, pay equity, unemployment insurance, reducing the deficit, and economic growth through innovations are key matters of concern for Americans.
"Durbin sits on the Senate Judiciary, Appropriations, and Rules Committees. He is the Ranking Member of the Judiciary Committee's Subcommittee on the Constitution and the Appropriations Committee's Defense subcommittee… "Senator Durbin makes approximately 50 round trips a year between Washington and Illinois." (http://www.durbin.senate.gov/about-dick-durbin)
"AJC Radio recognizes the positive impacts of our elected officials, and their numerous contributions to the American people. You'll want to tune in this week to AJC Radio as we shine the spotlight on a true advocate for justice, and discuss Senator Durbin's key priorities concerning our country," says Banks.
"AJC Radio hosts had the privilege of having exclusive interviews with both Democrats and Republicans alike, in the House and in the Senate, to include: Congressman Charles Rangel (D - NY), Congressman John Conyers, Jr., (D – MI), Congressman James Sensenbrenner (R – WI), Senator Mike Lee (R - UT), Congressman Henry C. "Hank" Johnson Jr. (D – GA), Congressman Tom Marino (R – PA), Senator Chuck Grassley (R – IA), Congresswoman Barbara Lee (D – CA), Congressman G.K. Butterfield (D – NC), and Congressman Hakeem Jeffries (D – IL). We've also featured other members of Congress such as Congresswoman Sheila Jackson-Lee (D - TX), Congresswoman Nancy Pelosi (D – CA), Senator Orrin Hatch (R – UT), Senator Patrick Leahy (D - VT), Senator Charles Schumer (D - NY), and Congressman Cedric Richmond (D - LA)," concludes Banks.
For more info on AJC Radio programming -- including program archives - visit www.AJCRadio.com. Follow the channel on Twitter @AJCRadio. AJC Radio, "Spotlight on Capitol Hill" segments air Thursdays, 8-10 PM ET.
About AJC Radio
AJC Radio is an Internet radio presentation produced by the advocacy group, A Just Cause (www.a-justcause.com). The programming is designed to bring a variety of discussions relating to the challenges that face America, as well as address the positive things our Congressmen and Congresswomen do everyday to help the American people.
Related press releases:
http://www.a-justcause.com/#!2015-press-releases/cl69
Lamont Banks
A Just Cause
(855) 529-4252
Contact
A Just Cause
Lisa Stewart
719-351-4321
www.a-justcause.com

Contact