Dynamics Software Announces Solution for Newest Release of Microsoft Dynamics AX
Dynamics Software, a leading provider of solutions based on Microsoft Dynamics AX, announced today that it will offer Dynamics Service for the newest release of Dynamics AX.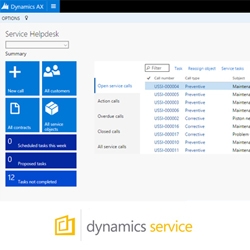 Veenendaal, Netherlands, March 11, 2016 --(
PR.com
)-- The new solution takes advantage of the innovative capabilities in Dynamics AX, the company's flagship ERP product built on and for Microsoft Azure cloud which became globally available this week.
Now available on the Azure Marketplace
Dynamics Service
helps customers by supporting their daily service processes, thereby increasing first time right percentage and work force productivity. A proven solution delivering results for hundreds of customers worldwide, Dynamics Service drives service excellence with improved operational efficiency, exceptional field service, increased revenue creation, significant cost containment and more resulting in higher levels of customer satisfaction.
"We are proud to be one of the first Microsoft partners worldwide to have our solution available on the newest Microsoft Dynamics AX release and available on the Azure marketplace," said Eric Veldkamp, Partner and Executive Director Sales & Marketing at Dynamics Software. "With this next generation of Microsoft Dynamics AX, we are able to further reduce time to value and accelerate productivity for our customers delivering effective solutions that make a difference to our customers and in turn their customers. A new world of customer service and satisfaction powered by Microsoft Dynamics AX and Dynamics Service!"
This latest release of Microsoft Dynamics AX moves beyond traditional enterprise resource planning to give customers the most modern connected cloud solution to date. It is designed to help people make smarter decisions quickly with an intelligent user interface, transform business processes faster with proven methodologies and practices, and enables organizations to do business virtually anywhere, anytime with the choice and flexibility of the cloud.
"Microsoft Dynamics AX is open for business and provides software vendors with a fantastic platform for building modern business solutions," said Jeff Edwards, Director, Partner Strategy, Microsoft Dynamics. "Dynamics Software is a great example of how our partner community adds value by offering solutions tailored for roles and industries that address the specific business needs for our customers."
Contact
Dynamics Software
Monisha Ghosh
+31318507800
www.dynamicssoftware.com
+31646811261

Contact