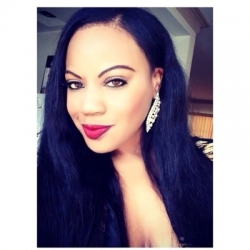 Los Angeles, CA, March 14, 2016 --(
PR.com
)-- Entertainment personality Cas Spencer has spent years watching various reality dating shows and contests. And Monday night was no different as she watched the infamous and always enjoyable war of the roses reunion show.
"As I watched Monday's show I couldn't help but wonder how I would react if in a similar circumstance," said Spencer. "However it donned on me that I'd probably be sent home early for not being affectionate enough or seeming closed off because of my personal brand of dating. So it got me thinking where the Christian version of the rose ceremony was and how can we get one on TV, stat. It's rough out there in the dating game rat race and it's even tougher if you have certain requirements like say, no consummating before the double ring ceremony."
Spencer, an entertainment publicist, is willing and ready to go as the first "Christian Bachelorette" for season one. While Cas realizes this isn't an entirely new concept, she understands that having a Christian version of something that's already clicking might be the way to capture interest and get people talking.
"There have been a few shows that have tried to break that glass ceiling. As a matter of fact I've worked on at least one show for a major cable network and although interesting and innovative, not enough people got into it."
Spencer is referring to a one of a kind dating show, where singles were matched up with fellow church goers and the Pastor and congregation ultimately decided who got paired off and who went home.
"Although it was a great concept, I think more people can identify with other shows because ultimately when we date, our Pastor and congregation aren't with us in the restaurant trying to figure out if this is worth a second go round."
And Cas cautions skeptics that a Christian dating show doesn't equal boring and stale television.
"It wouldn't be filled with hymnal singing (that wouldn't go over well) and bible verse memorization but rather, a modern and relatable show with a Christian twist," said the 33-year-old. "The point of the show would be to give those who can relate to the experience and culture of Christian dating (and there are millions) an opportunity to see themselves in TV land. Not to mention it would drive the point home that Christians have just as hard a time making their way through the BS brush as others do. While some may think there are plenty of Cherubims in Christian dating land, there is also a healthy population of jerks and 'jerkettes' out in the land of dating 'milk and honey'."
Spencer is confident this show would not go unnoticed and that any network would enjoy huge ratings.
"With 70.6 percent of Americans identifying as Christian (according to a 2014 Pew Research study) a Christian Bachelorette would go over huge with faith audiences. Watching relationships develop is a favorite to church goers and seeing a show that is fashioned specifically for this audience would be phenomenal for viewers."
And while some may scoff at the idea, Spencer feels it's important to give this large demographic an opportunity to find love the faith-based way.
"Christian women everywhere are interested in running into Mr. Right and riding off into the sunset of happily ever after fairy tales, just as much as non Christian women," the personality said. "But in the dating landscape of scantily clad ladies, from Instagram to your local coffee shop, what chance do we have? I'm no prude, (and I'm definitely not judging) but I'm certainly not posing in g-strings and pasties for men's magazines for optimal attention. I'm not claiming to be a perfect angel, but it's just not my thing. So, why not put myself out there as the 'Christian Bachelorette' and create something that millions of American women can relate to?"
The only thing missing is an interested, and talented production team to make it happen.
"I'm interested in working on this with a production team who has a zeal for relationship/dating, and faith related programming. I really believe in this project and have no doubt it would be a hit. I've worked on plenty of shows during my career as a publicist and know a winner when I see one."
Casimir 'Cas' Spencer is a Los Angeles based entertainment personality and publicist. Spencer is a guest dating and relationship blogger and has been featured as a guest social media talker on daytime television talk shows.