New Generation of OTP Tokens by Protectimus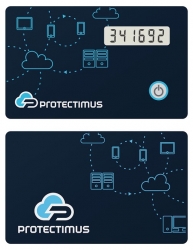 London, United Kingdom, March 15, 2016 --(
PR.com
)-- Protectimus introduces a new generation of hardware OTP tokens Protectimus SLIM and
Protectimus SLIM mini
. New tokens have 2 form-factors: regular bank card ISO/IEC 7810 ID-1 (85.6 x 53.98 x 0.76 mm) and a mini card 64 x 38 mm in size. The main feature of the new product is that it can be reprogrammed using NFC technology. It is possible to set the new secret keys into the tokens or to change the lifespan of the one-time passwords. This feature further enhances the safety of two-factor authentication as a whole, as well as expands the scope of the use of tokens by popular social networks, such as Google, Facebook, Twitter, Dropbox, and other resources.
What is the difference between usual and rewritable hardware tokens
A secret key of a typical hardware token is set at the factory and after this no change is possible. Before the OTP token reaches the end user, it passes through several instances that may be a producer, intermediator, company that provides strong authentication services, reseller, etc. Never forget that at any of these stages, the secret key can be copied by a dishonest employee. In the rewritable SLIM tokens by Protectimus, the secret key can be changed easily. This protects the business and the users' data from being compromised.
If the company uses strong authentication developed on the basis of Google Authenticator, the cyber security specialists of this company may face a problem with the usage of the hardware tokens. In such cases, the system generates the secret keys itself. It is impossible to connect some ready-made hardware tokens with their ready-made secret keys into the system. In this case, the rewritable OTP tokens can also be effective. It is necessary just to burn the system-generated secret keys into these tokens.
Rewritable hardware tokens combine the advantages of both software and hardware tokens. The secret key in these tokens can be reflashed, and at the same time it is an independent device and nobody can intercept the seed from it, as it can potentially happen with the software tokens.
The ability to reuse Protectimus tokens makes them more profitable for companies using two-factor authentication to protect their user accounts. After deleting the user from the system it is possible to reflash his token and pass it to a new user.
Reprogrammable token - a universal token
New tokens by Protectimus are suitable for authentication on any resource that uses 2FA, regardless of whether the secret keys will be provided by the server or token. Among such resources are Amazon, Bitbucket, Dropbox, Electronic Arts, Facebook, GitHub, Google Apps, KeePass, Kickstarter, Microsoft account, Salesforce.com, Teamviewer, VK, War Thunder, and many others.
Reflashed tokens can be used when logging in the system from the mobile device (tablet or smartphone) while the USB-token will not suit this purpose since these gadgets simply have no USB-connectors.
Contact
Protectimus Solutions LLP
Maxim Oliinyk
+442078493194
https://www.protectimus.com

Contact