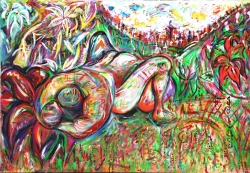 Simi Valley, CA, March 16, 2016 --(
PR.com
)-- Sam Shakib, Los Angeles humanitarian, is pleased to sponsor the Grace Divine Gallery on April 9, 2016 for the opening of a remarkable show, SPEAK OUT.
Location: Simi Valley Plaza, 1407 East Los Angeles Ave, Simi Valley, CA 90365 Unit K, (near center)
6 to 8 pm
Free Admission
To celebrate April, the month dedicated to the Earth, Sexual Assault Awareness, Sexually Transmitted Disease Awareness and Poetry, SPEAK OUT brings together over 30 original large-scale artworks that speak to critical social issues including depression, suicide, abortion, sexual identity, gay rights, rape, sexually transmitted diseases, HIV/AIDS and other issues related to sex and sexuality such as stillbirth, PMS, pregnancy, fertility, hermaphrodite, sexual shame, sexual harassment, sexual objectification and others. The show also SPEAKS OUT about mental illness and the related suffering of men, women and children. In an interview, Sam Shakib stated, "In sponsoring this show, I am a humanitarian reacting against the horrors of slavery and the sexual trafficking and abuse of women, girls and boys happening today around the globe! I personally know what it is like to be battered and alienated having fought for my children against horrific brain washing mind control cult tactics that endangered their lives, freedom and education. Through this art show, I would like to bring to the fore the importance of protecting the rights of the innocent and re-connecting all of us to the earth and to our humanness."
This is a once in a lifetime opportunity to view such a large group of paintings by Southern California artist Grace Divine that focus on important social problems. As she stated, "These are real paintings about real human experiences. Included in the show are 13 paintings that were inspired by the suicide of my daughter's boyfriend and these paintings are dedicated to him. He was just 26 years old and living in Westwood, California. My daughter, who was 23 at the time, found him hanging in the closet. She desperately tried to revive him. It was a gruesome scene, and one that has left a deep psychic wound in the community of people who knew him. Ultimately, I believe that suicide can be prevented, and I SPEAK OUT about this via my art. The paintings which are surrealistic also include strong shamanic anthropological nature based influences. As a result, I call this art style, shamanic surrealism because it utilizes 20th century art techniques and combines them with primitive animistic techniques aimed at soul retrieval and inner healing. The other art series in the show is all about the American woman's sexuality and experience at the end of the 20th century. As such, the art stands as a chronicle of women's sexuality. And because of this, they are and will be meaningful to generations to come."
At the opening, there will be a performance of poetry, multiple pieces specifically written for and dedicated to paintings in the show. Also, partly in recognition of the month of April being Earth month, there will be a shaman native drumming performance and singing bestowing a blessing and healing on nature, the event attendees and in particular, all cities in Los Angeles County and the surrounding Southern California areas.
The Grace Divine Gallery has been showing art since 2000 with a platform on the Internet as well as presenting a roving art show with a growing collection of art that promotes humanitarian and civil rights issues that aims to educate the public.
To look at the art in anticipation of the show go to
www.GraceDivine.com
.
For additional info, interviews, or to obtain images 949-836-6540 or artdivine@hotmail.com.
Press Contact: Grace Divine, (949) 836-6540, artdivine@hotmail.com