Go Girl Media Announces Production of My Mom and The Girl Starring Valerie Harper in a Joyous Look at Alzheimer's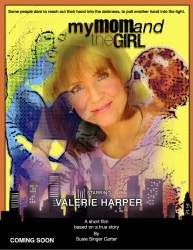 Los Angeles, CA, March 21, 2016 --(
PR.com
)-- Susie Singer Carter (Soul Surfer, Bratz), founder of Go Girl Media and producer Tony Cacciotti are proud to announce the start of pre-production on Singer Carter's short film, My Mom and The Girl, a "Joyous" and unexpected look at Alzheimer's starring five-time Emmy award winning actress Valerie Harper.
My Mom and The Girl is scheduled to begin shooting in April and has used crowdsourcing on Indiegogo for funding. The story, pulled from the chapters of Singer Carter's life, is based on "a night in the life" of her mother, singer Norma Holzer, who, though suffering the familiar ravages of this notorious disease, has retained her sharp humor and indefatigable curiosity about people, which informs the story arc of "My Mom and the Girl."
The inimitable Valerie Harper has been cast in the starring role of "Nanny," a former singer now suffering from Alzheimer's who escapes a dinner party to explore the streets of East Los Angeles. With her watchful caregiver, Irlanda (2 time Emmy winner Liz Torres), in tow, their brief but colorful sojourn leads to an encounter with "the Girl" (Harmony Santana - first transgender actress to receive an Independent Spirit Award nomination for Best Supporting Actress), a wild character with an unexpected narrative. With a hint of danger to the proceedings, Nanny's fearlessness and sardonic humor turns their urban adventure into - as writer/director Susie Singer Carter puts it - "a funny, poignant, and surprisingly rich story where apparent disabilities can be seen as gifts."
"My Mom and the Girl" has the additional pedigree of a "fiscal sponsorship" with UsAgainstAlzheimer's, an organization whose mission is "stopping Alzheimer's by 2020" and has also partnered with The Handshake Foundation to support their on-going mission to inspire young talent and career aspirations by providing opportunities for aspiring filmmakers to work on the set of My Mom and The Girl.
The film has also been officially endorsed by Alzheimer's Greater Los Angeles and has been flagged by the USC Media Institute for Social Change as an exemplary project not only for its content but also for its use of media influence to address social change.
My Mom and The Girl
is a live-action short being produced under the banner of Singer Carter and partner Don Priess's company, Go Girl Media, in association with producer Tony Cacciotti (Harper's husband). Go Girl Media is represented by Wendi Niad, Niad Management.
Donate and Learn More about My Mom and the Girl
here
.
For media inquires, please contact Susie Singer Carter at susie@gogirlmedia.com
About Go Girl Media
Go Girl Media (GGM) launched in 2004 and has established many partnerships with entertainment companies such as CBS, E! Entertainment, Lifetime, Fox Television Studios, among others. Go Girl Media is a proud woman-owned business.
About UsAgainstAlzheimer's
UsAgainstAlzheimer's (USA2) is a relentless force committed to ending Alzheimer's by 2020. Driven by the suffering of millions of families, UsAgainstAlzheimer's presses for greater urgency from government, industry and the scientific community in the quest for an Alzheimer's cure. We accomplish this through effective leadership, collaborative advocacy and strategic investments.
About The Handshake Foundation


The Handshake Foundation (THF) is organized as a California non-profit corporation established for the public benefit committed to advancing practical education in arts, industry and amateur sports through the development of life skills through mentoring and supported by on-going educational grants and financial aid.
About Alzheimer's Greater Los Angeles
About Alzheimer's Greater Los Angeles (AGLA) providing Greater Los Angeles families with hands-on support, information and resources, while advancing critical local research for a cure.
Contact Information:
Susie Singer Carter
Writer/Producer/Director
Go Girl Media
7403 S. Sepulveda Blvd. #108
Los Angeles, CA 90045
310-472-8910
Susie@mymomandthegirl.com
Contact
Go Girl Media
Susie Singer Carter
310-472-8910
www.gogirlmedia.com

Contact