Veretski Pass, Bruce Bierman, Heather Klein Among Performers at Yiddish Music & Culture Festival in Las Vegas
First Annual Yiddish Las Vegas: A Music & Culture Festival featuring performances by Veretski Pass, Bruce Bierman, Heather Klein and more.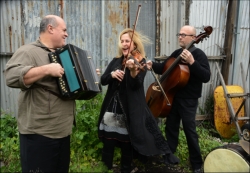 Las Vegas, NV, March 23, 2016 --(
PR.com
)-- Temple Sinai Las Vegas presents:
Yiddish Las Vegas: A Music & Culture Festival
Friday, April 8th
7:30 pm — Nu Shabes
Shabbat services arranged with Yiddish melodies
Saturday, April 9th
7:30 pm — Cantorial Recital and Friends
Temple Sinai Cantorial Soloist Heather Klein, Bay Area trio Veretski Pass and other musicians will perform in a variety of genres, including Yiddish, Hebrew, opera, musical theatre, and art song
Sunday, April 10th
10 a.m. to 6:30 pm—Music, Dance, Food and more
Get a taste of Eastern European culture from Heather Klein, Veretski Pass, dance instructor Bruce Bierman, vocal/theater instructor Laura Rosenberg, and Jewish-music radio host Andy Muchin.
There will be 3 blocks of classes: 10-11:30, 1:30-3 p.m., 3:15-4:30 p.m. Participate in master-classes from specialists in percussion, accordion, violin, bass, voice, and dance. Taste an assortment of Eastern European food from their "Beyond Bubbie" bakeoff winners being served at lunch.
5:00pm-Cabaret Dance Party
The day culminates with a live-music, cabaret dance party which will feature the musicians and ensembles performing what they have learned from their classes. As well as Veretski Pass and teachers performances combined with Bruce Bierman leading dancing for everyone.
A children's "Kinder Orkestra" will be held in the morning, along with other kid-friendly events.
Tickets:
www.templesinailv.org/events/festival
Advance Single ticket price: All weekend Festival pass: $40.00
Saturday concert: $18, All Sunday Pass: $25, Sunday Cabaret: $10 VIP option: $75 (ticket and VIP reception)
Ticket prices increase $10 at the door
VIP options (Includes VIP reception on Saturday before concert) $130 (2 tickets, VIP reception),
$250 (2 tickets, VIP reception, CD signing and pictures)All events held at Temple Sinai, 9001 Hillpointe Road, Las Vegas 89134
For more information, contact Heather Klein at 702-254-5110 or cantorialsoloist@templesinailv.org
Yiddish Las Vegas: A Music & Culture Festival is co-sponsored by Nevada Senior Services, JCC of Southern Nevada, Good Deads Day and Temple Sinai Las Vegas.
Contact
Temple Sinai
Stephanie Helms
702-378-2109
www.templesinailv.org

Contact