New York Start-Up Launches Healthy, Clean Nutrition Bar
New Nutrition Bar Shuns Added Sugars, Sweeteners, GMOs; Says Good-Bye to Gluten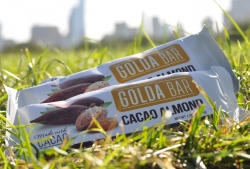 New York, NY, March 24, 2016 --(
PR.com
)-- A New York City dietitian is launching a newly developed nutrition bar that offers athletes, fitness enthusiasts and health-conscious individuals a tasty, balanced nutrition bar that is focused on cleanly meeting protein, carbohydrate and healthy fat needs while satisfying sweet cravings.
The new product, called
Golda Bar
, is a whole-foods-based nutrition bar that includes a combination of grass-fed whey protein, organic raw cacao, organic coconut oil, soluble fiber and Stevia while avoiding added sugars, sugar alcohols, artificial sweeteners and artificial preservatives. It is also gluten-free.
"As a Registered Dietitian/Nutritionist, I could never find a clean nutrition bar that I truly felt good about recommending to my NYC clients who need something healthy on the run," says Lauren Minchen of Lauren Minchen Nutrition PLLC in New York City. "So, I decided to create my own."
Minchen tested a variety of initial recipes, judging for the best combination of taste, texture, form and nutrients. After months of testing, Minchen settled on her recipe for Golda Bar. "I believe it is the gold standard for a healthy, clean and balanced on-the-go bar. I wanted to create something that didn't just meet minimal expectations. I wanted to create a bar that could meet my customers' needs for balanced nutrition, satisfy cravings, and eliminate the need to compromise on ingredient quality. Being chock full of organic and gluten-free ingredients, healthy fats from almonds and organic coconut oil, protein from grass-fed whey, and antioxidants from organic cacao, Golda Bar is the product of that vision," she said.
Minchen successfully funded a
Kickstarter campaign
for Golda Bar in January 2016 and launched the company's first flavor, Cacao Almond, in February. Golda Bar's second flavor, Hint of Peppermint, is set to hit shelves in the next 4-6 weeks.
Cacao Almond's nutrition label boasts 200 calories, 15 grams of grass-fed protein, 9 grams of healthy fat from organic coconut oil and organic almond butter, and 20 grams total carbs, with 15 of those grams coming from soluble and prebiotic fiber. Other ingredients include organic 100% cacao chips, whey crisps, sea salt, and Stevia. Hint of Peppermint will have a similar nutrition profile, but with added peppermint oil, organic sunflower seed butter, organic raw hemp protein, organic whole grain quinoa, and organic chia seeds.
Because of their balanced and clean nutrient profile, each of the Golda Bar flavors is a balanced on-the-go option for recovering after a workout, tackling sweet cravings, and satisfying hunger on the run.
Golda Bar uses Stevia for sweetening. Stevia, which for many years has been used medicinally, is natural and calorie-free with no known side effects or digestive disturbances that can be more common with artificial sweeteners and sugar alcohols.
The new nutrition bar will be distributed locally to New York City fitness centers and specialty health food stores, online shopping platforms, and national health and wellness chains. It is also available for on-line purchasing at
www.goldabar.com
. Pricing is expected to vary, but will be in the range of $3.00-$3.75 per bar and will be competitive with commonly sold whole food-based nutrition bars.
About Golda Bar's founder:
Lauren Minchen, age 28, has worked as a Registered Dietitian, entrepreneur and writer for the past 4 years, founding Lauren Minchen Nutrition, PLLC in NYC in 2012. Lauren has provided nutrition counseling and consulting services for individuals, organizations and media publications; discussed recent nutrition research and trends on her blog; and contributed to 2015's Daily Greens 4-Day Cleanse book. Golda Bar is particularly special to her, as she launched it shortly after the death of her sister and her father. Lauren sees Golda Bar as a symbol of hope in the midst of an otherwise tragic time, and she hopes it can be a positive example to other young entrepreneurs. In addition to her love for wellness, Lauren enjoys film, theater, and novels, and she hopes to write her own work of fiction in the near future.
Contact:
Lauren Minchen, Founder & President
Golda Bar, Inc.,
(646) 745-7034
lauren@goldabar.com
Contact
Golda Bar, Inc.
Lauren Minchen
646-745-7034
www.goldabar.com

Contact