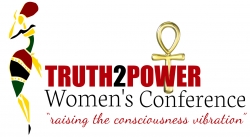 Washington, DC, March 31, 2016 --(
PR.com
)-- The Truth2Power Women's Conference gathers Black women on April 1­-2, 2016 at Prince Hall Masonic Temple in Washington, DC. This inaugural event will be two days of learning, love, and sisterhood to appreciate, celebrate, and discuss the power of the identity and abilities of the Black woman. The Truth2Power Women's Conference is presented by Abacus 6​ and Truth2Power Radio Show and sponsored in part by
Social Art and Culture
and
We Act Radio Station
. Founder and Radio Host of Truth2Power, Patricia Patton says​, "This conference was birthed out of my desire to raise the consciousness vibration of Black people. I want the mothers of civilization to use their gifts through song, dance and information to return and assist the community in who they truly are to be."
Founder and Radio Host of Truth2Power, Patricia Patton says​, "This conference was birthed out of my desire to raise the consciousness vibration of Black people. I want the mothers of civilization to use their gifts through song, dance and information to return and assist the community in who they truly are to be."
Friday, April 1st, the opening evening celebration will be hosted by author and poet, Raquel Ra Brown from 7 PM -­ 2 AM. We will be graced by the talents of vocalists Ayanna Gregory ​and Afi Soul​, hip hop artists Princess Best ​and Charm Taylor​, youth rap group Watoto From The Nile​, dance troupe ASA! Kelenya​, and spoken word artivists Dominique Christina ​and Sunni Patterson. The happy hour event will be inclusive of an African Marketplace of local retail and culinary vendors.
Saturday, April 2nd ​features powerful presentations, incredible performances, and unique networking opportunities from 10 AM -­ 5 PM. Activists and educators, who are rising up to encourage and uplift, will continue to move the Black community toward full empowerment, healing, and self love using art as the vehicle. Session topics include:​ Building Wealth​ with Abundance Child; Natural and Holistic Remedies ​with renowned herbalist Be Nature; The Importance and Methodology of Intergenerational Communication Between Women​ with teacher and artivist Princess Best; African Womanhood and Black Love ​with Dr. Mawiyah Kambon, and The Psychological Connection to Black Hair and Melanin with their keynote speaker, Dr. Afiya Mbilishaka​. Attendees will also enjoy a special performance by the illustrious Narubi Selah​.
To see the full conference schedule and purchase advance tickets visit the website,
www.Truth2PowerWC.splashthat.com
.