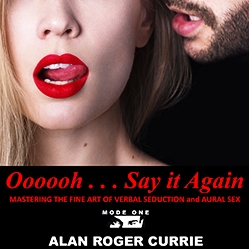 Hollywood, CA, April 11, 2016 --(
PR.com
)-- Many single men feel that the only way to create romantic chemistry with women of interest in the very first conversation is to be amazingly good looking, exceptionally flattering, polite, and entertaining, or boast about how much money they earn or show off an expensive luxury automobile or sports car that they may be driving. Men's Dating Coach Alan Roger Currie says all of the factors mentioned above are highly overrated.
"Just about every woman who has ever been a long-term or short-term lover of mine in my adult life has made it a point to let me know that the number one characteristic about me that turned them on the most was my talent for 'erotic dirty talk.' Ever since I was in my late teens or early twenties, I have known how to talk dirty to women in a manner that would leave them incredibly aroused. As a result, for the last ten years or so, I have made a career out of teaching men how to develop that exact same talent to use in a beneficial manner for themselves," said Currie, who also works with female clients as well as married and unmarried couples to help them add more 'erotic spice' to their love lives and sex lives.
Currie earns as much as $200 per hour from male clients interested in learning how to use the power of their voice and verbal communication skills to engage in conversations with new female acquaintances that transition from conventional, boring 'small talk' to sizzling hot 'aural sex' without resulting in these men being perceived by women as rude, crass, and/or blatantly disrespectful and offensive.
"That's where the talent lies. Any man can become bold enough to express a number of sexually provocative and erotically explicit comments to women, but the key is, can they do it in a manner that leaves women turned on rather than turned off? This is my number one specialty. This is what motivates men to pay me money to become a mentor for them and tutor them effectively," added Currie, who has an audiobook available on Amazon.com and Audible.com entitled, "Oooooh … Say it Again: Mastering the Fine Art of Verbal Seduction and Aural Sex."
Currie asserts that men and women are both visual and auditory, but men tend to be turned on more by what they see, while women generally are more turned on by what they read and hear, which is why sales for erotica novels and 'audio erotica' oriented audiobooks marketed to women have exploded in the last ten years.
"You cannot talk to women about sex in a manner that is too crude, harsh, or misogynistic. You have to be smooth, seductive, and erotically descriptive. You have to talk to women in a manner that creates visual images in their mind and imagination. Once a woman begins visualizing what you are describing to her in her left ear with a half-whisper tone of voice, you will have her intrigued. A woman's erotic imagination is extremely powerful," offered Currie, who works with male and female clients via Skype, over-the-telephone, and also in face-to-face sessions.
Currie also works with female clients to help them increase their feminine energy, and to help them overcome many of their sexual inhibitions and prudish sensibilities that may be hurting their chances of maintaining an enjoyable and satisfying relationship with men of interest.
In addition, Currie advises married and unmarried couples who are looking to add what is known as 'erotic role play' into their marriage or romantic relationship, and incorporating BDSM and polyamory themes if that is what the couple genuinely wants to do.
Currie offers a free complimentary telephone session for women and couples who are interested in his coaching and services. Currie also is the Host of an adults only podcast program entitled '
The Erotic Conversationalist
.'
Men can download Currie's audiobook,
Oooooh . . . Say it Again: Mastering the Fine Art of Verbal Seduction and Aural Sex
for free when they sign up for a 30-day risk free trial subscription with Audible.com.