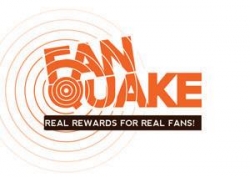 Saint Augustine, FL, April 11, 2016 --(
PR.com
)-- FanQuake (www.FanQuake.com), a technology startup company with a proprietary platform matching Fans, Talent and Partners, will be sponsoring NFL Jacksonville Jaguars QB Blake Bortles BB5 Foundation inaugural golf tournament April 15-16 at King & Bear golf course at World Golf Village.
FanQuake, which is launching its Beta product later this year, will be running a $1,000,000 Hole-in-One Contest on Hole 3. The top 5 closest to the pin on this Par 3 hole will reconvene at the conclusion of their round to take their million dollar shot!
"We are really excited to be involved in Blake's event," commented 25-year veteran Sports Attorney/Agent/Marketer Randall Kasper, Creator of FanQuake. "Blake is the future of the Jaguars and FanQuake is the future for Fans, Talent and Partners in the Loyalty and Marketing worlds. We are both strongly committed to charitable endeavors and generally improving the lives of everyone we can reach."
FanQuake, with its accomplished team of sports, entertainment, marketing and loyalty professionals have devised a patent-pending Win/Win/Win technology platform. Talent will earn more money than ever before through sponsorship. Partners will receive significantly higher ROI for their marketing dollars, and Fans will finally be justly rewarded for their support of the talent and brands they cheer on!
"We look forward to showcasing FanQuake at Blake's inaugural event. We can't wait to show how local merchants, national brands, fans and talent can partner up to change the paradigm, earn money and effect positive change in their communities through activities which are a part of their daily lives," remarked FanQuake Co-Founder and COO Greg Smarslok.
Greg Rudolph, Co-Founder and Chief Product Officer for FanQuake added "this $1,000,000 Hole-in-One contest is just a small example of what our model dictates we can do to drive fan/customer engagement in a way that justly rewards that vital group for the first time. Big time rewards for fans is our goal and the natural by-product of the FanQuake ecosystem."
Both FanQuake and Bortles call Jacksonville home, and each intend to make a positive impact upon the community. Bortles' BB5 Foundation is strongly committed to improving the lives of children and focused on public safety organizations. Inaugural event festivities begin at Renaissance Resort at World Golf Village on Friday, April 15 kicking off with a celebrity pairings party and concert, from 7-11pm. The golf tournament and Awards Party/Concert follow on April 16 7pm-11pm at the Renaissance Hotel Convention Center in World Golf Village. Tickets are available to the public at www.blakebortlesfoundation.com in limited quantities.
FanQuake is also giving away 50-yard line, 8th row season tickets to the Jacksonville Jaguars in their "Inaugural Sign-Up and Refer-a-Friend Contest" which fans can sign up for now at www.FanQuake.com to be awarded July 4, 2016.