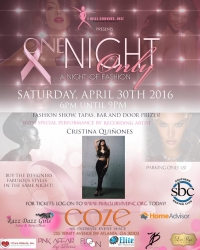 Atlanta, GA, April 12, 2016 --(
PR.com
)-- I Will Survive, Inc. (IWS) is a domestic 501 (c)(3) in Atlanta, Georgia with a mission to increase breast cancer awareness through education and provide funding in lower income communities. Three breast cancer survivors in the IWS programs will have their stories told and are direct recipients of this event. The goal is to raise $6000. Please help make this goal possible by making a donation if unable to attend. Tax deductible donations can be made on the website. Breast cancer survivors are most appreciative of the support.
Cristina Quinones is a featured singer performing and has been affected indirectly by cancer. Recently, The House of Representatives of Atlanta, Georgia officially handed Hispanic Singer/Actress Cristina Quinones on this day March 16th 2016 a Resolution that has been recorded by State as the First Latin Female in the Entertainment industry. On September, 2010, Cristina performed at the 32nd Annual Georgia Music Hall of Fame Awards. She then received her first official music award, The Bill Lowery "Horizon Award," for which it is given to an "up and coming" performing artists with significant ties to the State of Georgia, and who is expected to make a significant future contribution to the world of music. In fact, Justin Bieber received the same exact Award the following year 2011.
Angelina Sherie is an inspirational artist changing the art of music not only by her singing, but also her ability to accompany the violin and use her skills to freestyle and do what is unheard of in the music industry, she is a Vocalinist.
Ashthon Jones was born to sing... and is performing for you. She has been touched by breast cancer. For 6 years Ashthon had been working on her singing career in Nashville when she finally landed her first publishing deal with a major publishing company at the ripe age of 19. Little did she know this would lead into many more blessings. All the while, Ashthon always kept up with American Idol and wanted to audition from day one. That fateful day came when her mother called her and told her it was her time. With out a second thought, Ashthon quit her job and went to the audition. Wearing number 8838 she went in front of Randy Jackson, Steven Tyler and Jennifer Lopez whom unanimously voted her in. She was going to Hollywood. She made it into the finals and has never looked back. From an Idol World Tour and a myriad of interviews from "Live with Regis & Kelly" to "Entertainment Tonight" and "MTV News", Ashthon has experienced what others only dream of. With her eye on the prize, Ashthon is already giving back early in her career by recording a song on First Lady Michelle Obama's "Song for a Healthier America" hip-hop album, which has been featured on GRAMMY.com's "Exclusive First Listen." Her performance at the album release at Symphony Space in New York City has now earned her the opportunity to tour with Michelle Obama's nationwide campaign.
Jaki Brown Couture returns as the featured designer. Jaki Brown is a full service designer with designs for women, men, teens, dancers, and stage performers. Jaki Brown has shown her work on stages in Virginia, Georgia and Florida and has designed for celebrities such as Alicia Keys, Carmen Electra and Nicole Sherzinger of The Pussycat Dolls, Kandi Buruss, and Keri Hilson.
Interested sponsors, please email Contact@IWillSurviveInc.org today!
Event sponsors include: Home Advisor, Razz Dazz Girls, Survive International, Flo On Entertainment, Elite Web Professionals, Livi Rae Lingerie, Jaki Brown Couture, I Care Atlanta, Southern Barter Club, Nekola Essentials, Tito's Vodka, Delirium, and more!
Food and beverages available. Parking only $5.00
Door prizes include Bliss Spa at the W Hotel and Center for Civil and Human Rights tickets, to name a few.
For more information and to purchase tickets, please visit the website at
www.IWillSurviveInc.org