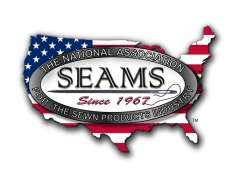 Aiken, SC, April 13, 2016 --(
PR.com
)-- SEAMS, the National Association for the U.S. Sewn Products Industry, will present its fourth and largest-ever Supply Chain USA Pavilion at the Texprocess Americas trade show on May 3-5 in Atlanta. The organization will also host the Supply Chain USA Networking Gala, an evening reception that brings together global fashion and sewn products executives and professionals in a social setting at the Omni Atlanta Hotel at CNN Center.
According to SEAMS Executive Director Sarah Friedman, "This edition of Supply Chain USA comes at a time when both sourcing and manufacturing companies are showing great interest in and shopping for domestically produced goods and services. As we work year-round to help retailers and brands leverage the speed, reliability and other benefits that the USA supply chain offers, we find that few are fully aware of the wealth of competitive services that are locally and conveniently available. The Supply Chain USA Pavilion is a great place to connect with the business partners they need to meet today's consumer and market demands. We also encourage all show-goers to join in the networking event where they can relax after a full day at the show to socialize and strengthen business relationships."
Located near a main entrance to Hall B of the Georgia World Congress Center, the Supply Chain USA Pavilion will comprise 38 individual SEAMS member exhibits. Key product and service groupings include yarns, fabrics and industrial textiles; cut and sew contract manufacturing and full package production and fulfillment services; information technology and consulting services; trims, findings, threads and other supplies. All attendees to the Texprocess Americas, Techtextil North America, and JEC Americas composite shows can find the USA pavilion at the front of aisles 1200 through 1600.
The Supply Chain USA Networking Gala is open to all pre-registered industry professionals from around the world. It will be held just steps from the show site on Wednesday, May 4 from 5:30 to 7:00 PM in the beautiful Atrium of the Omni Atlanta Hotel at CNN Center. Tickets for the event are available online at
http://www.seams.org/Events/TexProcess
or by contacting SEAMS at +1-803- 642-1111.
About SEAMS
SEAMS, the National Association for the Sewn Products Industry, is a not-for-profit organization comprised of textiles providers, contract and full-package manufacturers, brands, vertical retailers and their suppliers and service providers that collectively represent the complete USA concept-to-consumer supply chain. The mission of SEAMS is to promote the continued growth of the USA fashion, sewn products and textiles industries through educational programs, networking opportunities, business opportunity matchmaking, industry collaboration and special member benefits packages. Fashion and soft goods industry executives, managers, professionals and entrepreneurs leverage their SEAMS membership to gain new business, stay informed of industry issues and trends, find solutions to productivity and operational challenges, manage costs and increase productivity. For more information, visit the website at http://www.seams.org.