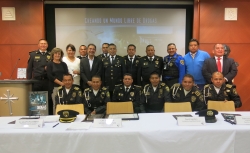 Mexico City, Mexico, April 15, 2016 --(
PR.com
)-- For the occasion, a panel of experts in the field of drug prevention was at hand, all of them longstanding public servants who have worked for years in drug prevention. Guest speakers included Mr. Francisco Castillo, a professor at the National Autonomous University of Mexico and an expert in drug addiction; Officer David Irigoyen Ortega, Commander of the School Security Unit of Mexico City Police; and Commander Benjamin Salvador Jimenez, Commander of the Auxiliary Police Forces of the State of Mexico.
In the opening speech, the Solomon Dabbah, Director of the Foundation for a Drug-Free World in Mexico, highlighted the importance of the The Truth About Drugs campaign and its successes throughout Mexico and around the world. He also stressed that the success of this initiative, the largest of its kind in the world, lies in the use of high-quality audio-visual teaching aids, including the public service announcements that describe, in 30 seconds or less, the dangers of using each common drug. Or the multi-award-winning documentary The Truth About Drugs, which shows, in a crude but clear way, the devastating effects of drug abuse.
During the final part of the night, the Church of Scientology (Scientology) of Mexico and the Mexican Asoiación of Scientology, took the opportunity to make the delivery of a special recognition to Commander Benjamin Salvador Jimenez, for his thirty years as a police officer and 23 years as the leader of thethe 19th Region of the Police Auxiliary Forces in the State of Mexico.
Drugs are more than just another social problem. Approximately 210 million people, at all levels of society, use illegal drugs. Almost 200,000 die each year because of drugs.
Most deaths are among youth. Every 12 seconds, a school-age child experiments with illicit drugs for the first time. Drug abuse in this age group has risen over the past decade and children are exposed to drugs at ever younger ages.
Reverend Jonathan Marduk Rico, spokesman for Scientology, declared that the culture of drug prevention and a drug free life is typical of all Scientologists, and said: "Scientologists are a community hundred percent drug-free. We take seriously the goals of Scientology, as laid out by our founder, Mr. Ronald Hubbard, and we are very interested in helping improve the lives of families, and society in general."
The Mexican pastor concluded by inviting the community to "join efforts to change society, each person can make a difference."
The Church of Scientology supports the "The Truth About Drugs" campaign, one of the largest nongovernmental education program on drugs in the world. It has been conclusively proven that when young people receive factual information about drugs, what they are, the rates of drug use falls significantly.
For more information, visit
www.scientology.org.mx