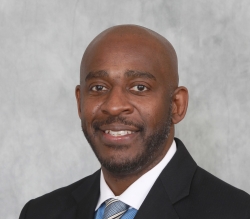 Cincinnati, OH, April 16, 2016 --(
PR.com
)-- Kirk Smith Unlimited & Associates announces the return of Kirk Ray Smith, BS, MS, a native of Cincinnati-Avondale, who overcame obstacles and beat the odds. Kirk is returning to share insights and experiences to inspire and empower others no matter their race, age, lifestyle, pedigree, or economic position. He has a message that transcends cultural norms and religious beliefs. Come one, come all to this free and life-changing event supporting one of our own!
Kirk Ray Smith will be the featured guest speaker at Abundant Life Fellowship Church, located at 2740 Hyannis Drive, Cincinnati, OH on Sunday April 24, 2016 at 11am. This is a free event and open to the public and ideal for those who desire to grow spiritually and emotionally as individuals, couples, families, and groups of any type. For those who desire to become stronger and of even greater value to those they love and the world. Kirk is committed to helping all people become unlimited in their ability to realize their vision, purpose and full potential holistically.
Kirk's unique style of combining humor and substantive and contemporary content will inspire others to unlock their potential and dedicate themselves to becoming more energized and inspire those around them to do the same. His holistic insight and innovative principles will make change agents of all who desire to be so, and help the masses realize their tangible and intangible dreams.
"We are in need of straight-shooters who aren't afraid to have the tough conversations. We have to believe that people are more capable and valuable than they're given credit for. I believe my message marries the simplistic and the sublime with the systematic, allowing for creativity and change, with a strong focus on individual-personal value and calls all people to action," says Kirk Ray Smith.
About the Speaker
Kirk is a published author and op-ed columnist; recently released the inspirational book, 'Daily Insights of a Change Agent', Available on Amazon.com in both paperback and electronic versions. He serves as an Adjunct Professor for various Colleges and Universities. Specializing in leadership development, social justice, community engagement, marketing for nonprofits, organizational change, and advocacy for public policy within both undergraduate and graduate studies programs. Kirk holds a Bachelor of Science in Human Services and a Masters of Science in Organizational Management & Leadership from Springfield College. He is a nationally certified Nonprofit Organizational Leader & Leadership Development Professional. Kirk has been a senior executive-level leader of nonprofit organizations, motivational speaker and lecturer for over 20 years. He has been featured on numerous national and local television shows and news publications and magazines discussing self-improvement and social change.