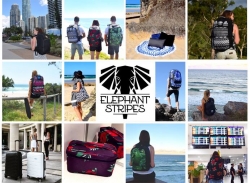 Toronto, Canada, April 20, 2016 --(
PR.com
)-- Two Young Female Entrepreneurs Bring Fashion and Function Together in New International Travel Gear Company.
"We believe your travel gear should be as exciting as your travels are," Jordan Abrahams, Elephant Stripes Co-Founder.
"We want our customers to be proud of their bag as it's coming down the luggage carousel, and for their bags to be a visual expression of their style and personality while they travel." - Francesca Logan, Elephant Stripes Co-Founder
As travel-lovers themselves the Kiwi co-founders, Francesca Logan and Jordan Abrahams, got fed up with always having to choose between travel gear that looked good or that was durable and functional. "We noticed that most travel gear was made by men and for men with women and style as an afterthought. So we decided to do something about it," said Francesca.
Age was no barrier for Jordan and Francesca, who first started brainstorming the idea for the company while at Victoria University of Wellington at the age of 21. Now aged 23 the co-founders admit that while at the beginning they often avoided admitting to their age for fear they wouldn't be taken seriously, they are now comfortable being young business women, with their ever-growing experience in the manufacturing and product design industries to back them up.
After launching their website at the beginning of March with their product range including modern Suitcases, Duffel Bags in many exciting designs, ingenious Folding Bags, patterned Packing Cells, beautiful Cosmetic Cases and more, the new company recently launched their travel packs onto crowdfunding platform, Kickstarter. On Kickstarter "backers" pre-order the packs, which are then manufactured and delivered to them by October at the latest. In return for their patience, the backers are rewarded with up to 40% off the recommended retail price of the bags – the faster they get in, the better the discount.
The packs come in 2 sizes and include all leading-edge travel pack features, to name a few - front loading, a fully adjustable harness system, zip away harness, a dedicated laptop pocket, a built in rain cover, zip on daypack and an attachable side strap. The bags use high quality materials and YKK zips and buckles.
Jordan and Francesca thought that of all travel products, packs were the most in need of a "style revamp." "We were horrified by the mud-brown and boogie green shades previously on offer and when it came to female travel packs more often than not all that was being done was to 'shrink it and pink it,'" said Francesca. Elephant Stripes' packs come in a choice of 6 unique designs covering many different styles from flowers, to Aztec to a black bag with a feature gold zip.
They use a "bag for bag" model – similar to the Toms and Warby Parker movements. For every bag sold during the Kickstarter campaign Elephant Stripes will donate a school bag to an Indonesian child in need. They have partnered with the Bali Children's Project, a reputable not-for-profit charity registered in the US and Indonesia.
This initiative isn't the only charitable aspect of the young company. Both Founders stress the importance of being at the forefront of the movement towards better business practices. The duo carefully selected their manufacturer in Indonesia that best aligned with their values, they set up a charitable foundation, The Ashla-Maia Foundation, which owns a portion of the business and they are in the process of moving to fully recycled packaging. They aim to broaden this aspect of the business and say in the future they want to use recycled fabrics, help out other female entrepreneurs and get involved in Elephant Rescue projects.
Overview:
· Online store launched March 2016 http://www.elephantstripes.com.au
· Kickstarter campaign launched April 2016 https://www.kickstarter.com/projects/677601707/356576294?token=a3c0a514
· Both founders young females, age 23, New Zealand born
· Focus on charitable aspects - Doing well by doing good
Contact: Info@elephantstripes.com.au for more information