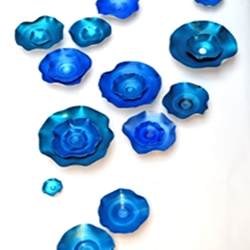 Dallas, TX, April 20, 2016 --(
PR.com
)-- For the May 14th exhibition, "Imminent Ascent," Laura Rathe Fine Art presents new works by notable underwater photographer, Christy Lee Rogers and porcelain installation artist, Lucrecia Waggoner.
Boisterous in color and complexity, Rogers applies her cunning technique to a barrage of bodies submerged in water during the night, and creates her effects naturally in-camera using the refraction of light.
As a contemporary artist, Waggoner implements and applies various materials in her artwork, including precious metals, such as 22k Gold, Palladium and Copper that add depth and illuminate each piece. With her artistic vision, she creates installations that are intricately mapped in forms and compositions that mimic elements derived from nature and abstract visions of landscapes.
The exhibition will be on view through June 18, 2016.